Shop Local campaign to reward customers with points
Friday, 29 August 2014
A new digital loyalty scheme aimed at encouraging people to 'shop local' could soon be coming to Hebden Bridge.
Phlok offers independent shops and other small businesses a way of fighting back against the pressure from major chains, out-of-town retail parks and online shopping by rewarding customers with points whenever they use the outlets signed up in a town.
An open meeting is being held in Hebden Bridge Town Hall on Wednesday, September 3, to give people chance to find out more about the scheme – and talk to Phlok representatives about how they would like to see it introduced in the area. The meeting starts at 6pm with all Hebden Bridge and Mytholmroyd independent retailers and business owners invited to attend.
The event is being jointly organised with the new Hebden Bridge Business Forum – set up earlier this year to support, promote and advocate for local businesses. They feel that the Phlok initiative could be a way of giving a welcome boost to hardworking local traders.
Vice Chairman Russell Horn said, "We've been looking into ways of creating a more level playing field for independent businesses - particularly our retailers who are under ever increasing pressure from the onslaught of supermarkets and other big chain stores trying to push into our area.  We came across Phlok and got in touch as we thought it might be a way of giving back the advantage to our local shops.
"Hopefully, if as many people as possible get along to the meeting, we can find out if this is the way forward to work together for the benefit of our towns."
A unique social media concept, the Phlok web and smartphone rewards platform incentivises consumers with virtual currency, collectable and spendable with any business on its network.  When the customer spends Phlok points, Phlok pays the receiving business full value for the points spent. The business then gets full price for its item or service while the customer gets something for free.
It is already popular in Yorkshire with a number of towns now on board and more than 200 independent businesses joining in the last few months.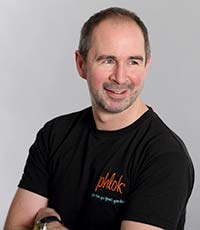 Phlok Chief Executive Paul Graham said: "Our goal is to connect local people with local businesses, encouraging consumers to shop local. We are immensely proud of what the company has achieved so far and we are seeing Phlok playing a big part of the revival of local shopping.
"We don't just see this as a novelty to be used in one or two towns, but a realistic opportunity for business owners across the UK. With so many unique indie shops concentrated in Hebden Bridge and Mytholmroyd - and a strong determination to protect that local identity - we feel it is an ideal location to engage with local businesses about Phlok. Please do come along to the meeting and find out about the scheme and we will be happy to answer any questions you might have."
According to Mr Graham, the unique aspect of Phlok is the ability for consumers to collect a high volume of Phlok points without it costing the individual business more than a few pence and with the innovative 'Pay with Phlok' cashless payment service, a digital wallet that fills up with this free money, it's easy, rewarding and fun for both consumers and business owners.
Mr Graham added, "Our overall aim is to get local customers to transact more often with local businesses and support a growing, vibrant community. It means a lot to me that Phlok makes the term 'Shop Local' make sense."
Since Phlok was launched 20 months ago, nearly 1,000 businesses in 55 towns and villages across the UK and Ireland have connected, including shops, restaurants, bars, off-licences, pharmacies, coffee shops, car dealerships, clothes retailers and property agents. Phlok businesses have already reported more than £1,000,000 worth of sales and have had many millions of social media hits through its innovative platform.
For more information about the Phlok meeting contact Gerry Crookes of Crux Communications on gerry@cruxcomms.co.uk or phone 0792 126 3298. Email Hebden Bridge Business Forum or visit their website