Wainsgate Chapel concert: classical/jazz fusion project - Bach ReLoaded
Saturday, 20 September 2014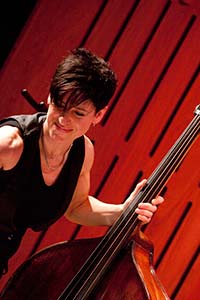 The hills will be alive with the sound of superb music when double bassist Jenni Molloy brings her extraordinary classical/jazz fusion project Bach ReLoaded to Wainsgate Chapel on Sunday September 28 for the final concert of the 2014 series.
Bach ReLoaded is an exquisite fusion of jazz, classical, ambient and world music that has been enchanting audiences since the group was formed in 2007. Their debut album was voted the 4th best jazz release of 2009 by The Sunday Times and was one of Radio 3's Critics Choice Records of the Year; "superb...heartening stuff" said a review in the Sunday Times.
Jenni's wealth of experience in both jazz and classical music, combined with her technical virtuosity has gained her worldwide critical acclaim with musicians and audiences alike. Her musical in­fluences are far reaching and diverse, so expect swinging township grooves, passionate tangos and soaring melodies – all of which feature in her work and form the basis for this intense ride of jazz fusion.
Jenni's innovative and original compositions have been inspired by Bach's Cello Suites, Solo Violin Sonatas and the keyboard Partitas and Inventions. With verve and virtuosity Jenni takes a melodic or rhythmic phrase from several of these most demanding works, and draws her audience into a musical journey that is both daring and unpredictable, whilst retaining the utmost respect for arguably the greatest composer in history.
Joining Jenni for these performances of unforgettable, cutting-edge ensemble playing are Stuart MacDonald on soprano and tenor saxophones and Chris Sykes on drums and percussion. "I've performed with all three musicians so I know just how brilliant they are," said Wainsgate organiser Dave Nelson. "Whether you love jazz, are devoted to the classics or simply enjoy live concerts, this is music making at its very best - right on the doorstep!"
Bach ReLoaded starts at 3pm and tickets, which are only available at the door, are £10 and £8. Wainsgate Chapel is on Wainsgate Lane, Old Town, Hebden Bridge HX7 8SU. Parking there is limited and reserved for disabled drivers. There are plenty of footpaths for those who'd like to walk from Hebden Bridge or there's an hourly bus service to Old Town Mill Lane (opposite Wainsgate Lane) where parking is also available. More details can be found at www.wainsgate.co.uk.