25 Years of Artisan Organic Bread
Tuesday, 30 September 2014
Saker have been baking organic bread and flapjacks, cakes and savouries at the bakery in Todmorden for 25 years! On Saturday 27th September they had a huge celebration in their shops in Todmorden and Hebden to celebrate the anniversary, with freebies for all their lovely customers - nibbles and cake, and fizzy apple juice.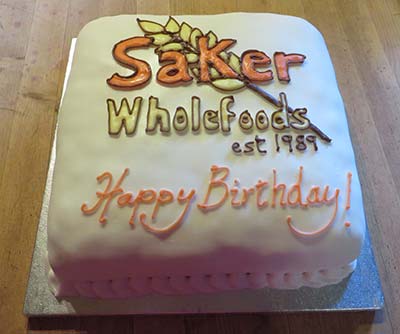 Bunting and live music added to the celebratory atmosphere. The beautiful birthday cake had 25 candles which took Karl (the baker) a bit of blowing out! There was a free raffle, with a splendid hamper partly donated by their wholefoods supplier Suma - every customer on the day got a free raffle ticket. The winning number is on the window – the lucky customer with number 117 still needs to go and claim their prize, so check your tickets!
In recent months, Sakar have extended our selection of wholefoods, all at excellent prices, as we buy in bulk and do our own bagging up meaning we can pass on considerable savings to our customers. We do a range of gluten-free, raw and vegan goodies and cooking ingredients, such as Xanthan gum, 100g for an amazing £1.50. Gluten free bread is made fresh on Saturdays and can often be bought frozen during the rest of the week.
Sakar are open 7 days a week, so pop in and say hello, and remember to check your raffle tickets!