Calder Valley Voices: Come and Sing Your Heart Out
Wednesday, 22 October 2014
If you love to belt out a Christmas carol in a crowd or just find you sing to yourself round the house and would like to join in with some others, you should think about joining the community choir in the Upper Calder Valley.  Calder Valley Voices is recruiting members this Winter and would love to hear from you.  You don't have to be able to read music or have sung in a choir before – they don't audition.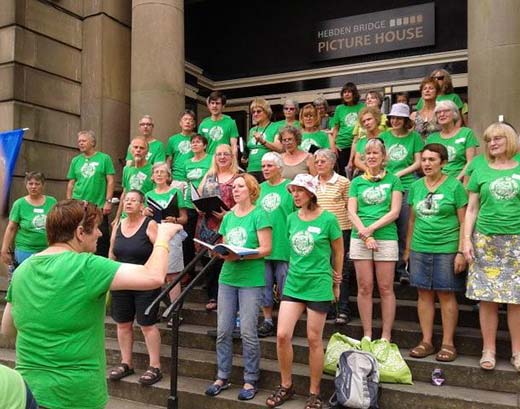 Committee member Sakinah Haq says: 'Even if you've never thought about singing in a group or performing before, you should give Calder Valley Voices a go.  We sing for the sheer pleasure of it and choose a huge range of different songs to learn, with guidance from our professional director, Carol.  She has years of experience working with community choirs in the North and helps everyone find their true singing voice.  The repertoire includes songs of peace and justice, traditional protest songs and beautiful songs from all over the World celebrating life and love.'
You'll be welcome just to go to the weekly sessions but if you want to perform, the Choir has a schedule of open-air singing, fund-raising for charities and other performances throughout the year, starting with a Christmas Concert on the evening of 11th December.  In July the choir played host to the hugely successful 'National Street Choirs Festival' which saw 40 community choirs and 1000 singers coming to Hebden Bridge for a long weekend of performances and workshops.
Calder Valley Voices meets weekly during school term times – 7.15 to 9.30 on Thursday evenings in the Methodist Hall opposite the Hebden Bridge Coop supermarket.  The first session will be on Thursday 6th November, in the run up to the Christmas Concert in mid-December.
More information on the website
or contact the organisers -
07745 470345
committee@caldervalleyvoices.org.uk