The Egg Factory Hatches Again!
Thursday, 23 October 2014
Hebden Bridge based cooperative Made in the Valley launch crowdfunding campaign to raise £10,000 for the Egg Factory, new co-working space.
The money will be used to create a comfortable and flexible workplace for creative start-ups and the self employed to use facilities that they don't have room for at home, make business contacts and try new ideas.
Made in the Valley co-operative members Amy and Sue Mellis, Rachel Johns and Katch Skinner have spent the summer cleaning and decorating a disused factory and installing their existing equipment and furniture.
"Now we need funds for decent heating; equipment such as printers, tables and tools and bespoke storage pods, work desks and screens" says Amy "they'll all go towards giving our subscribers what they need to forge successful businesses. There's not much help available nowadays for new ventures and we want to do our modest bit for the local economy"
"Local people may remember the building as the old egg factory" says Rachel "and we thought we'd keep the name as it sums up what we're trying to build - a space for creative business people to fertilise and incubate new ideas. But we'll also be hosting a wide range of workshops, talks, exhibitions and events for the wider public to enjoy. There should be something for everyone."
"We're making some super stuff to send out as rewards when people make a pledge." Katch says "We'll be hand printing our own artwork on to cards, bags, prints and banners as well as offering vouchers for workshops, craft parties and one to one tuition - all useful Christmas presents!"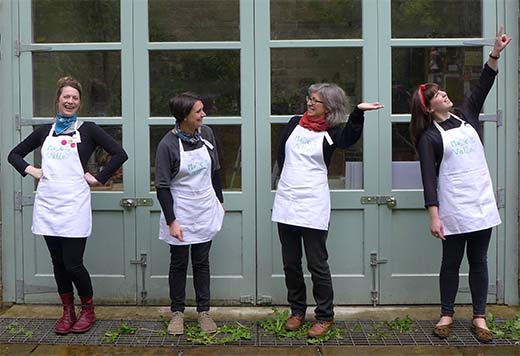 "If anyone can make The Egg Factory happen, it's the Made in the Valley team, creative, determined and inspirational, said "Rebecca Yorke, South Pennines Project Officer at Pennine Prospects.
What is crowdfunding? Crowdfunding enables people with a great business idea to ask the general public for the funding they need to set up or expand. The business sets a target for the money it wants to raise and explains how it will use the cash. People can then make pledges for small amounts of money in return for a reward.