Search and Rescue Fundraising Calendar
Tuesday, 28 October 2014
After nine months of hard work and numerous long sessions spent on location in and around the Calder Valley, the time has finally arrived to announce that the first ever Calder Valley Search & Rescue Team Fundraising Calendar is now on sale.
The theme for the calendar was inspired by the Mountain Rescue England and Wales motto, "Saving lives in wild and remote places," and thankfully, not by the Calendar Girls - so therefore, the Team can also confirm that the they will be keeping their clothes on!!
The result is a series of 12 stunning images encapsulating Mountain Rescue around our operational area. From a stretcher carry on Norland Moor near Halifax, to casualty care amongst the bluebells at Hardcastle Crags, Hebden Bridge and a search by one of our SARDA Search Dogs of a snowbound vehicle. Each photo shows a glimpse of CVSRT in action in various locations and scenarios.
CVSRT Team Leader, Les Wilson told the HebWeb, "This has been a fantastic team project and the first time the team has done anything like this but I'm sure you agree that the photographs look amazing. Not only does the calendar show the team and the Calder Valley in a great way, but we've also managed to use each photo shoot as a training session. Looking through the calendar, it's obvious to see that a lot of hard work has gone into this project. I'm very proud of the team and the results they've achieved."
"We've had an incredible response from local businesses, wishing to 'sponsor a month' and help cover the printing costs. This has meant that all proceeds from the sale of the calendar will go direct to the team. Our aim is to raise £5000, which will go towards our on-going fund to help replace one of our ageing emergency response vehicles."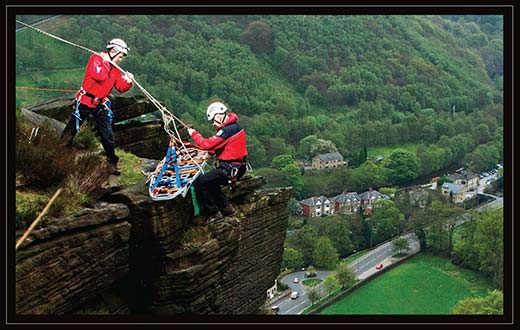 CVSRT is very grateful to Tony (Hanners) Hanrahan, the main photographer on this project, who volunteered his professional photography services and spent many hours on location with the team and editing each shoot. Three other photographers are also featured in the calendar whose images are just too good to leave out: CVSRT is alslo grateful Hils Everitt, Joby Catto and Anne Farnell for allowing the team to reproduce their stunning photos.
The CVSRT Charity Calendar 2015 is available now from any team member and numerous outlets throughout the Calder Valley at the modest price of £6 (plus £2 p&p, if required). at Visit our website for more information or keep checking our social media updates as more local outlets are announced.
For those wishing to grab a perfect Christmas present, the calendars are also available by post. Please contact fundraising@cvsrt.org.uk for more information.