Fox and Goose pub co-op rolls out the red carpet for indie legend Tom Hingley
Monday, 3 November 2014
Entertainment at the Fox and Goose pub is stepping up into the major league with the booking of a big name act who has sold more than a million records.
In an exciting coup for the Hebden Bridge co-operative, Tom Hingley, former lead singer of Manchester indie band Inspiral Carpets, will perform at the Heptonstall Road pub on Sunday, 16 November.
The entertainment will go on all day, with supporting performances from local musicians, then Tom will take the stage at 8pm. Admission is free and all are welcome.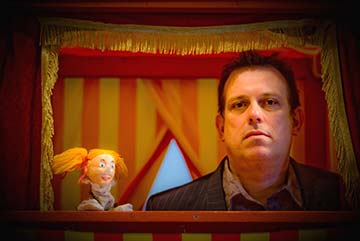 Tom is now a consummate solo artist, who combines his old band classic singles with an eclectic mix of soul, rock 'n' roll and blues and has released several critically acclaimed albums.
The Fox has been putting on a broad selection of music since 262 people bought the hostelry as West Yorkshire's first co-operative pub in March last year - but this is by far the biggest name to appear so far.
Gerry Crookes, a Fox and Goose shareholder, was in touch with Tom through her Public Relations business, Crux Communications. She told the HebWeb, "Tom mentioned on Facebook that he had some dates free in November. I tentatively asked him if he might consider doing an intimate gig at a small pub like the Fox and told him about the co-operative. To my delight he said, yes of course he would do it, and within minutes he was chatting on the phone to Fox entertainment manager Cayn White."
Tom said he thought the whole idea of community ownership was 'cool'. He said: "It's a triple pleasure to be playing at the Fox and Goose, in a community co-operative venture, and in Hebden Bridge."
The star has his own beer, Tom Hingley's Bitter, which is sold at 'selected venues' and it is hoped it will be available on the night for local real ale fans to sample.
Cayn said: "I'm really happy to be able to welcome someone of Tom's calibre to the Fox and Goose. For him to agree to play for us is a huge coup and shows how far we have come as a pub in just seven short months. Also as a real ale fanatic, it will be great to meet someone who has actually had an ale made in his honour!
"For Tom Hingley fans unfamiliar with us, just a warning that the Fox is a small venue so make sure you come early to find a space!"
Tom Hingley is described as the 'glory days' lead singer with Inspiral Carpets - one of the pioneers of the Manchester Music scene. For 22 years 1989- 2011 he sang on all the band's chart hits, until he parted company with them in 2011.
Along with The Stone Roses and Happy Mondays, Inspiral Carpets were instrumental in creating the indie music scene which led to an international cultural explosion called Madchester.  Classic songs such as 'This is How it Feels' and 'Saturn 5' helped propel them to international stardom, with a following of millions around the world.
Tom was chosen as Inspiral Carpets' frontman at audition - over the band's roadie Noel Gallagher. Tom went on to sing on 15 top twenty hits, appeared on Top Of The Pops seven times, has sold more than a million records and toured the world many times over. Noel also went on to do quite well!
As a solo artist, Tom has released two albums through Pledge music. 'Sand' is an acoustic album which 'starts with a heartbeat and ends with a string quartet'. The electric guitar 'Paper' album is a punkier, grittier experience.