A Heavenly Coup for the Trades Club
Monday, 3 November 2014
The Trades Club are celebrating a massive coup as legendary independent music label Heavenly Recordings stage their 25th birthday bash weekender in the New Year.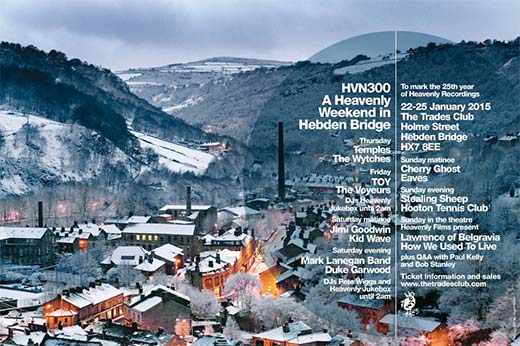 Heavenly was home to Manic Street Preachers and Saint Etienne and 12 of the label's current roster will play a series of one off gigs in the club from Thursday 22 January to Sunday 25 January 2015.
"Our promotions manager Mal Campbell has pulled off a near miracle as Heavenly could have put their party on in any club in the country, but they chose the Trades," Trades spokesperson Paul Clarke told the HebWeb.
"The line up is astonishing as we have Temples making a welcome return after a tour of much bigger venues, former Screaming Trees frontman Mark Lanegan playing his most intimate show for years and Doves singer Jimi Goodwin doing a special Saturday afternoon matinee.
"The national music press are all over this one off weekender, so we wanted to give our local supporters fair warning that tickets go on sale at Tuesday 4 November, and are likely to go in record time."
You can get tickets via the Trades Club website: www.tradesclub.com