Thingumajig Theatre Company Brings National Tour to Hebden Bridge
Friday, 7 November 2014
As part of their 6-week UK tour, locally-based professional theatre company Thingumajig Theatre will be performing their internationally acclaimed play, A November Day for 2 performances on Saturday, 15 November at the Birchcliffe Centre in Hebden Bridge.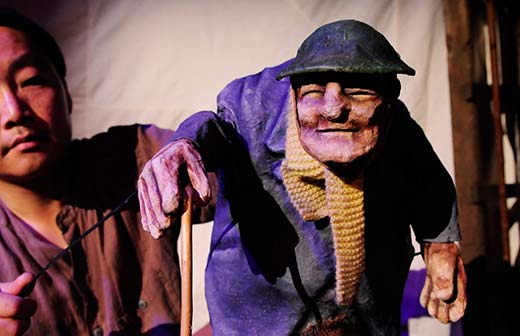 As the founders and director of the Hebden Bridge Handmade Parade, Thingumajig Theatre artists Kathy and Andrew Kim are better know in Hebden for their giant street puppets and stilt walking characters. This will be a rare opportunity to see what these artists do for the rest of the year.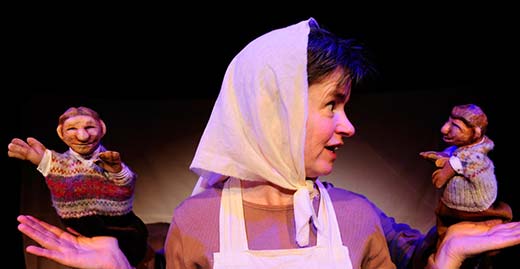 Using puppets, storytelling, live music and an ever-changing set, "A November Day" is about a woman who discovers the story of her grandfather, a survivor of the First World War, and his unexpected encounter with a stray dog who knew no boundaries.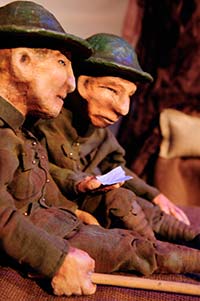 Originally created in 2008 in association with the Imperial War Museum North, this play offers a gentle, personal voice in a timeless fable on war and the miracle of friendship when all else seems lost. A November Day has played throughout the UK, Ireland, USA and in Italy.
"We're thrilled to be performing one of our puppet plays in Hebden Bridge," said Andrew Kim, "You've seen our giant puppets on the streets; we think you'll enjoy seeing their smaller puppet cousins in this lovely new performance space."
A November Day will be performing at the Birchcliffe Centre, Birchcliffe Road, Hebden Bridge HX7 8DG. Show times are November 15, 2pm and 7pm. Tickets are £7 (£5 concessions); a family ticket is £20. The show is recommended for ages 10 and up; call 01422 844450 to reserve tickets. For more information about the show, visit our website.