Lamplighter Festival to brighten December in the Calder Valley
Monday, 1 December 2014
Thousands of visitors are expected to attend a fire and light extravaganza when the Lamplighter Festival takes to the streets of Todmorden on Saturday, 6 December 2014.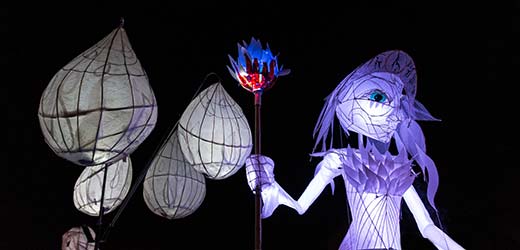 The event will kick off at 6pm with a dazzling parade of lanterns, including giant withy sculptures made by Handmade Parade artists. This will be followed by a host of fire shows, illuminated installations and street theatre taking place from 7-9pm.
Hundreds of people have been busy making their ocean-themed lanterns at open workshops held at the Unitarian Church in Honey Hole Road, Todmorden.
Andrew Kim, Artistic Director of Handmade Parade, said: "We're thrilled to be returning to the streets of Todmorden this year with an all-new, bigger-than-ever, night-time extravaganza. In addition to the lantern parade, we'll be showcasing some of the most exciting street theatre and installation artists in our valley. We're particularly excited by the Christmas craft market featuring some great local artisans and craftspeople with the perfect gift, just in time for Christmas."
Organisers are urging those taking part in and watching the event to walk or use public transport if at all possible, as parking in Todmorden will be restricted on the night and some road closures will be in place for the parade.
And if anyone would like to help out by volunteering as a steward on the night, please email.
Last year's Lamplighter proved a huge hit with the thousands who watched and took part. The event followed on from the success of the Valley of Lights festival which boosted the town after the floods of 2012.
This year's highlights include fire shows by Flame Oz, music from Mr. Wilson's Secondliners, Handmade Samba and Dhamak, illuminated installations by Spacecadets and giant flaming sculptural flowers by Walk the Plank - expect colossal lilies that belch plumes of fire when you least expect it and holly bushes that ignite at a moment's notice.
The night will also feature the world premiere of a new interactive street show by Frolicked called "Rat Race" featuring a giant cheese, performances by Todmorden Belly Dance and guest giant lantern puppets from Liverpool's Lantern Company.
New this year will be a Christmas Crafts Market, showcasing work by local artists and craftspeople and a host of stalls from local food producers who will be keeping everyone fed and watered.
It will be a busy day for Todmorden with Kidsfest taking place in the Town Hall, the Christmas Lights being switched on (4-5pm), a street party on Water Street and Night Beams, magical projections, music and performance on the Great Wall of Tod on the canal at the new Fundevogel Art Cafe (7:30pm to late).
For more details, go to www.handmadeparade.co.uk
Lamplighter Schedule
5:15 Lantern Parade Line-up (Lever St. car park)
6:00 Lantern Parade
7:00 Handmade Samba (Lever St. then Pollination St.)
7:10 Flame Oz Fire Show (Lever St.)
7:20 Mr. Wilson's Second Liners—music (Market then Pollination St.)
7:30 BadCat—belly dance (Lever St.)
7:40 Dhamak—music (Market then Pollination St.)
7:45 & 8:20 Shadow puppets (Lever St.)
7:50 Fire Spinners (Lever St.)
8:10 Mr. Wilson's Second Liners—music (Lever St. then Market)
8:20 Dhamak—music (Pollination St. then Lever St)
8:30 Handmade Samba (Pollination St. then Water St.)
8:40 Flame Oz Fire Show (Lever St.)
Also:
Fire and Illuminated installations by Walk the Plank, Spacecadets, Bryan Tweddle, Thingumajig Theatre and Handmade Parade 5-9pm
Street theatre by Frolicked and Wild Rumpus 5-6pm and 7-9pm (Pollination St.)
Walkabout street acts by Curious Cargo and the Lantern Company 7-9pm
Other events on the day:
12-3:30pm KidsFest Town Hall
4-4:30pm Christmas Lights Switch On
4-9pm World Street Party on Water St.
7:30-late Night Beams, art and performance at the "Great Wall of Tod" on canal
And indoor and outdoor Christmas Night Market until 9pm!