Station carol singers raise money for Railway Children charity
Wednesday, 17 December 2014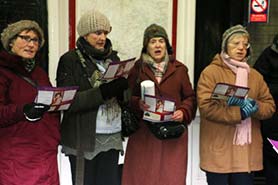 The Friends of Hebden Bridge Station's annual carol singing event raised £95 for the Railway Children charity. Members of the Friends were joined by singers from Heptonstall Church, Calder Valley Voices and the Friends of Littleborough Station to entertain commuters on their way home. Singing was led by Musical Director David Storr, who is the group's Vice Chairman and Treasurer. Musical accompaniment was by Diana Monahan on keyboards.
Friends Chairman Martin Whittell said that they were pleased with sum raised and thanked people for their generosity. However, the amount raised was down on last year, and the group wonder if this is because commuters from Manchester were seriously delayed that evening and many hurried off the train fed up and trying to get home or catch their buses.
The Railway Children charity works in India, East Africa and England. They meet the immediate needs of children and teenagers on the streets and living on railway stations. Their outreach workers spend time with children, gaining their trust and providing a safe place to stay whilst they work out the best long-term solution for their individual circumstances.
They work to return children home when possible, and support children and their families to resolve their issues and make their reunions successful. They also work at community level and with policy makers to try and reduce the number of children on the streets.