Eastwood Recycling Centre repairs: "no cost to council tax payers."
Wednesday, 17 December 2014
Calderdale Council have now confirmed what councillors had already told HebWeb Forum readers: The Eastwood Household Waste Recycling Centre in Todmorden is to reopen following the completion of repair works undertaken after an incident which caused damage in July.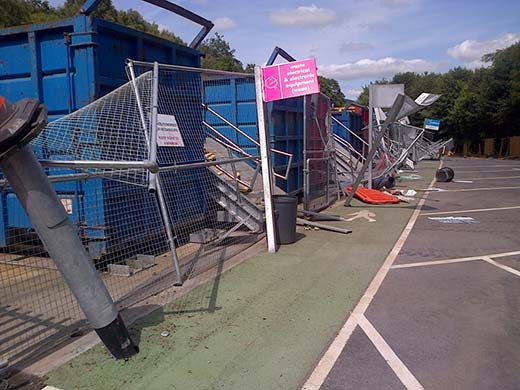 The cost of the repairs was in the region of £220,000 and was met by SITA UK's insurers, meaning that there was no cost to the Council or Council Tax payers.

Repair works were completed by SITA UK contractors, Eric Wright Civil Engineering, and included replacement of boundary fencing and gates as well as lighting, signage and the construction of walkways to provide access to waste and recycling containers for the public.

The site is expected to reopen to the public on Tuesday 23 December 2014 between 9am and 4pm from Monday to Saturday and between 10am and 4pm on Sunday.

SITA UK Regional Manager, Julie Craigie said, "I would like to thank local residents for their patience during the closure of the site and for their continued commitment to recycling during this difficult period. Now that the site is to be open once again, we look forward to welcoming people back and helping Calderdale's residents put their waste to good use."

Calderdale Council's Cabinet Member for Corporate Asset and Facilities Management, Housing and Environment, Cllr Scott Benton, said, "It's good news for residents that the recycling centre is expected to be open again in time for Christmas. We thank them for their cooperation whilst alternative recycling services were in place, and we look forward to the top-quality facilities being used again at the site. It will help residents to recycle all they can during the festive season and beyond."
The council statement did not include any explanation of why the repairs took so long or why more suitable alternative arrangements were not made.
See also:
HebWeb News: Eastwood Recycling Centre - closed again for 4 months (Wednesday, 23 July 2014)
HebWeb Forum: Eastwood tip (Dec 2014)
HebWeb Forum: Free Trevor Lewis (Oct - Dec 2014)