Pennine Way Loop coming to Hebden Bridge and Heptonstall
Monday, 12 January 2015
Half £million boost to visitor economy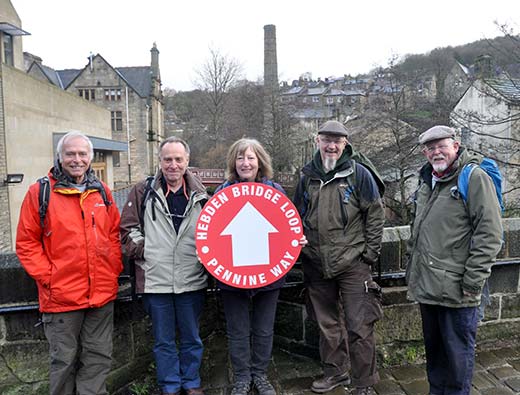 The Pennine Way was launched on April 24th 1965 making it 50 years old this year. 
Back then, Tom Stephenson, Pennine Way Pioneer and Planner, could not have seen the point in directing people though Hebden Bridge, at that time a depressed, polluted, half-empty ex-weaving town, much the same as the homes the walkers themselves hailed from.  At the same time, there were proposals to pull down half of Heptonstall!
Richard Peters from Hebden Bridge Walkers Action (HBWA) has told the HebWeb, "Fast forward 50 years and the situation has changed totally, with Hebden Bridge becoming the first 'Walkers are Welcome' town and a known centre for excellent walking - as well as being an interesting, vibrant and quirky town in its own right. The fact that the Pennine Way doesn't come through Hebden Bridge and Heptonstall now looks quite perverse. We are very excited about the new link route and expect it will be of real benefit to visitors to Hebden Bridge and Heptonstall."
The proposed new way-marked link route is being developed by HBWA in partnership with Hebden Bridge Hostel. It will be launched on Saturday April 25th - the day after the 50th anniversary of the Pennine Way.
Dave Brooks from Hebden Bridge Hostel put the case for the link route. "Several thousand people walk the Pennine Way each year with many more doing day walks. A small number visit or stay in Hebden Bridge and they often ask how they get back on the Pennine Way.  If a good percentage of these Pennine Way walkers stayed or visited Hebden Bridge and Heptonstall, it would have a significant impact on the local visitor economy."
Nick Shields, leader of Hebden Bridge visitor economy group explained, "It is reckoned that the average spend of someone staying a night in the town is a minimum of £60. If Hebden Bridge gradually becomes the main route and everybody stayed it could bring maybe half a million pounds into the town, and that's not counting people who only walk a short section."
Funding the new route
Mo Ludlam, secretary of HBWA explained how the route will be funded. "To establish the new route, we will need about £2,500. Hebden Royd Town Council has agreed a grant of nearly a thousand pounds which is a great start to the project. Hebden Bridge Rotary, Hebden Bridge Walkers Action, Love the South Pennines managed by Pennine Prospects and Friends of Calderdale Countryside have also agreed to financially support the initiative. Hebden Bridge Hostel will contribute their website expertise and CROWS (Community Rights of Way Services) volunteers will carry out the waymarking and upgrading works, being reimbursed at a later date. Discussions with Heptonstall Parish and other local organisations are all underway."
Support from businesses
Richard Peters, treasurer of HBWA explained how HBWA hoped the rest of the money would be raised. "We are going to contact all the accommodation providers, pubs, cafes, restaurants and walking shops who will directly benefit from an increased number of walkers visiting and staying. We will ask them if they will invest a minimum of £20 to the project, knowing that this will easily be repaid in future years by increased custom. We hope that other businesses and individuals will also contribute to this great idea, just to promote the town."
Business contributions to the new Pennine Way route can be made in two ways:
Drop a cheque (made out to Hebden Bridge Walkers Action) into Mountain Wild on Crown Street or Hebden Royd Town Council at the Town Hall
Make a direct transfer to Hebden Bridge Walkers Action sort code 050959, account number 39348393
The HBWA website will acknowledge any contributions made.
Sponsor a waymark
Individuals may also like to contribute by sponsoring a waymark - CROWS estimate the average cost is £5 with about 60 needed. To sponsor a waymark, people can just text CROW42£5 to 70070.
A list of contributors, further details about the new route and how it is progressing can be found on the Pennine Way page of Hebden Bridge Walkers Action website www.hbwalkersaction.org.uk and the new Hebden Bridge Loop on the Pennine Way website, www.hebdenbridgeloop.org.uk
The launch, Saturday April 25th
50 years and a day after the Pennine Way was officially opened the launch of the Hebden Bridge Loop starts at Hebden Bridge railway station at 10.35 am. We will walk the whole loop, but people can just do a section.
At points along the way there will be a range of entertainment. For details, look at Hebden Bridge Walkers Action website.