Piano Festival programme launch party
Wednesday, 28 January 2015
Fast becoming a regular fixture in the town's social calendar, the 2015 Hebden Bridge Piano Festival programme launch party takes place at the Town Hall on Saturday 7th February. Festival director Dave Nelson will be providing live jazz piano music for this free event which is open to anyone and starts at 6.30pm. It's also the earliest opportunity to buy tickets and passes for the festival weekend which starts on 17th April.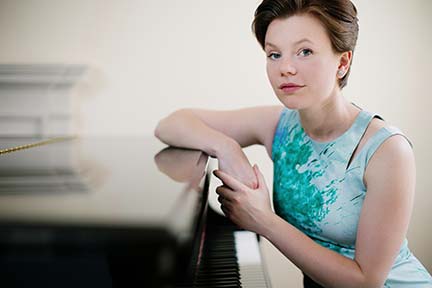 Headlining this year's festival are top class artists who have performed all over the world. Ashley Wass, Clare Hammond and Gordon Fergus-Thompson are some of the best known and established pianists in the UK and have each released many recordings. Less well known, but equally talented, Sarah Beth Briggs and James Lisney give the ever popular piano duet recital.
Other stars of the festival include acclaimed pianist and composer Lola Perrin who will be performing her own compositions, some accompanied by silent abstract films, and the superb jazz pianist Zoe Rahman whose compositions and arrangements are fused with the music of her Bengali heritage. The festival has a policy of nurturing new talent and in 2015 its rising star is 18 year old Isata Kanneh-Mason who was a BBC Young Musician of the Year category finalist this year. As usual, we are also programming inexpensive concerts for children and families, recitals by local piano students, and free events featuring non-classical piano music.
"Last year's programme launch was a bit of an experiment," said Dave Nelson. "But it turned out to be a great night and the place was packed! As well as the live music there'll be a bar and party food, making it a fun way for everyone to see the wonderful programme we've to put together and to secure those tickets for what will undoubtedly be a sell-out weekend."
Tickets go on sale online at 7pm on February 7th, and the Festival box office opens at the Town Hall reception desk on Monday February 9th. Alternatively postal bookings can be made via the booking form tucked inside the programme, and also available from the Festival website. For in-person booking, the Town Hall box office will be open Monday to Friday between 10 and 4.30 right up to the Festival weekend. There is a quick link for on-line booking and much more information about the recitals and performers at www.hebdenbridgepianofestival.com