Crossley Mill Nursery Rhymes to a funkier beat
Thursday, 12 February 2015
Listen carefully as you next walk past Crossley Mill Nursery in Hebden Bridge and you may hear the strains of some familiar children's songs, performed with a difference.
Nursery rhymes have been given a musical makeover thanks to parents, children and staff at the nursery who have collaborated to create a CD of their favourite songs that will appeal to children and their parents.
The new CD has proved so popular that local shops and businesses have stepped in to help Crossley Mill bring their music achievements to a wider audience.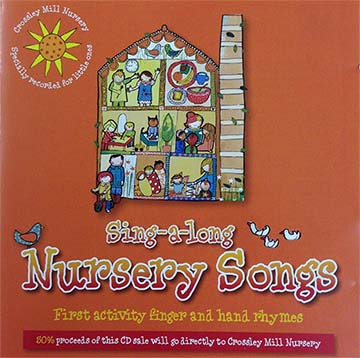 The inspiration behind the CD came from Shirle Janes, whose daughter attends the nursery. "My daughter loves singing and from day one at Crossley Mill, she came home singing songs, most of which I didn't know! I wanted to sing along with her, so I asked the staff to write out the words for me, but then I could never remember the right tunes. I needed a CD to learn the songs, but as that didn't exist I thought I would make it!"
"It occurred to me that if other parents needed it too, then we could and raise money for the nursery at the same time," adds Shirle.
Shirle was Doris, from Doris and the Dinner Ladies, a 23-piece soul band that gigged locally a few years ago. The Crossley Mill CD was co-produced with Steve Andrews, a well known local musician (and member of the Owter Zeds) who specialises in reggae and ska.
Several members of the nursery's staff team agreed to sing on some of the 27 tracks. "They have done us proud! Anna loves it when their familiar voices come on and it makes a link between home and nursery, which is lovely," says Shirle.
Nursery manager Jessica Cracknell is delighted with the result of the collaboration, and not only because it great fun to make. "The Crossley Mill CD is definitely a favourite with our children. I also feel that it encourages children who may be a little quieter to join in and sing along with the familiar nursery songs and voices."
Parents too have given positive reviews. Rob, says, "My daughter, who is 2, has insisted on playing this CD consistently on journeys and at home since we bought it. The reggae, rock and poppy nursery rhymes are fantastic. It is great to listen to her singing along, watch her dance around the living room and learn the words. You can even hear other parents humming along during pick up and drop off."
"There's a variety of musical styles on the CD but I hope it inspires all to sing along with me," says Shirle.
Copies of the CD are on sale at Spirals, Old Treehouse and Clean Green Nappy Machine. They can be purchased on Ebay or from the nursery directly. Sound clips from the CD are available on the nursery's website.