New Peace and Justice/CND Group
Tuesday, 17 March 2015
Two inspiring speakers - Councillor Jonathan Timbers, Hebden Royd Mayor and Professor Dave Webb, Chair of CND - got the new peace group off to an amazing start last Wednesday.
A well attended meeting heard of Jonathan's commitment to the "Mayors for Peace" initiative and Dave set out reasons why we should work towards cancellation of the Trident nuclear weapons system at the 2016 vote in Parliament, a crucial opportunity to get rid of UK nuclear weapons for good.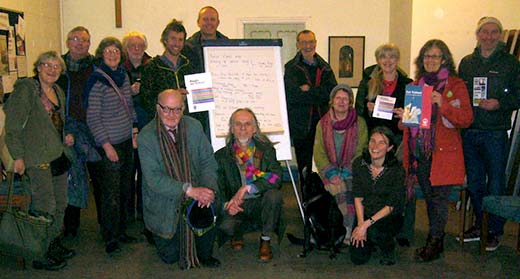 A lively brain-storming session followed with people suggesting lots of ideas for actions. It was decided to use "Calder Valley CND - For Peace and Justice" as a working title for the group.
We shall be meeting again on Weds 15th April at 7.30 pm in Hope Street Baptist Church, Hebden Bridge.
Contact Cath 07980 291478, cath@yorkshirecnd.org.uk, or Kathy 07821 274040 for further details.
New Peace and Justice/CND Group
Monday, 2 March 2015
A new Upper Valley peace and justice/CND group is about to be formed.
The inaugural meeting will be held at 7.30 pm on Wednesday 11th March in the Ebenezer Room at Hope Baptist Chapel, Hebden Bridge.
Next year the UK parliament will have to vote on whether to replace our current Trident nuclear weapons system at a cost of at least £100 billion. We want to influence that decision to ensure that future generations are not saddled with the enormous financial and moral burden of nuclear weapons.
Speakers will include Professor Dave Webb, Chair of National CND and Councillor Jonathan Timbers, Mayor of Hebden Royd and a member of Mayors for Peace.
All are welcome, whether you want to be involved in the future activities of the group or just want to find out more.
For further details go to www.yorkshirecnd.org.uk or phone 01706 815155.
Alternatively find us on Facebook