Laid Bare: Love Songs from
juice vocal ensemble
Tuesday, 3 March 2015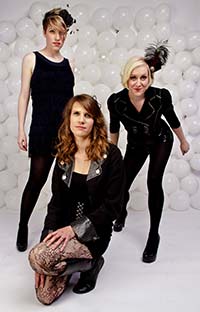 In a brand new venture, Hebden Bridge musician and music promoter David Nelson is putting on an extraordinary event at St Michael's Church in Mytholmroyd on Thursday 19th March.  Headlining this concert is acclaimed London and York-based juice vocal ensemble who will be performing songs from their latest CD, Laid Bare: Love Songs.
juice are sopranos Anna Snow and Sarah Dacey, along with Kerry Andrew (alto) who has been hailed as one of the leading young composers in the UK. They are at the forefront of the UK's experimental /classical scene, performing new vocal music which draws not only on classical music, but world music, jazz, folk, pop, improvisation and theatre too. (Photo: Dannie Price)
juice vocal ensemble have featured on BBC Radio 4's Woman's Hour, BBC Radio 3 and Classic FM and have performed at London's Wigmore Hall and the South Bank, King's Place and the Roundhouse. According to a review in The Times, "juice… are the 21st century's answer to the Swingles or the King's Singers - and deserve to be as famous."
Supporting juice on March 19 will be female vocal ensemble Alyssium who are based in the Upper Calder Valley. Their core repertoire is drawn from contemporary works for upper voices by Alison West, composer and director of Hebden Bridge based chamber choir The Hepton Singers. Alyssium's programme includes the first performance of a new work for voices and harp with words by celebrated poet Donald Atkinson.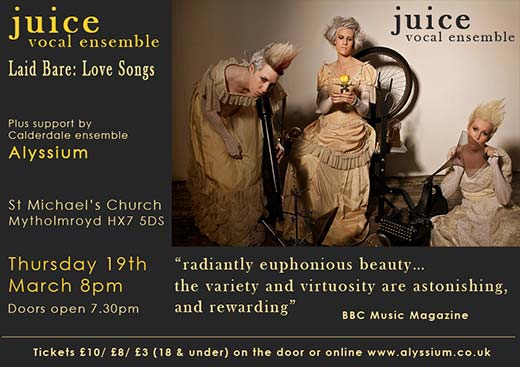 "We are thrilled to have the opportunity to sing on the same bill as juice." Said Alyssium singer Jan Scott. "We saw them perform at the Hepworth Gallery last autumn and were totally blown away by their virtuosity, originality and powerful connection with the audience."
The concert starts at 8pm and tickets, which are £10 and £8 (£3 for 18 and under) will be available on the door, as well as online from www.alyssium.co.uk
There is plenty of car parking at and close to St Michael's Church, which is also very near to bus stops and Mytholmroyd railway station.