Easter Monday: The return of the yellow ducks
Wednesday, 4 March 2015
Duckmania will return to Hebden Bridge this Easter Monday 6th April 2015 for the 16th annual Charity Duck Race, organised by the Rotary Club of Hebden Bridge, whose members are pulling out all the stops to surpass last year's record takings.
The event attracts thousands of visitors, from near & far. This is not just a Duck Race. Throughout the day there will be a variety of entertainment, including children's rides, charity stalls, live music from a local jazz band and the Hebden Bridge Junior Brass band. It's a fun day out for all the family.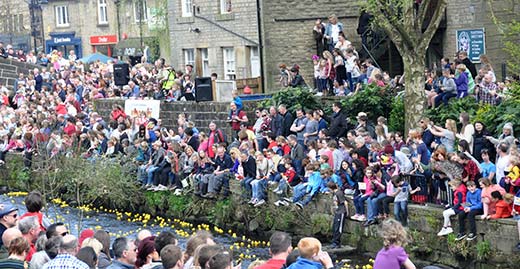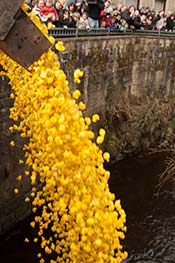 The Duck Race starts at approximately 3.15pm when the ducks are all launched at the same time into the river from St George's Bridge. Up to 8,500 individually numbered yellow ducks will race down Hebden Water to the finish line at West End bridge. Throngs of spectators watch from every possible vantage point.
There will be lots of annoying puns from the commentators. Expect things like "the crowds go completely quackers", "the ducks are in a right flap".
Tickets for the Duck Race cost £1 each and are now available on-line and from numerous shops and pubs in the town, displaying brightly coloured posters, and from the Tourist Information Centre beside the Marina.
Tickets, and other duck related gifts, will also be on sale from the Rotary stall in St Georges Square from 10.00am to 4.00pm on the 21st-22nd, 28th-29th March and 3rd-5th April, and from 10am to 3pm on Race Day - Easter Monday, 6th April.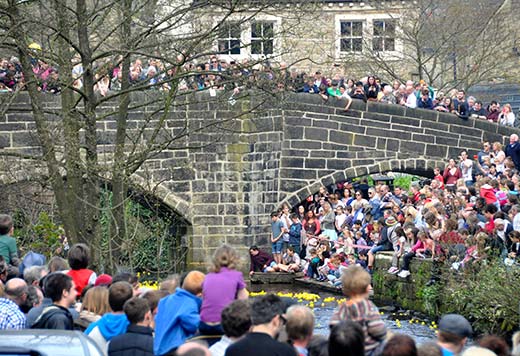 Following the success of last year's decorated duck competition, local junior and infant schools, nurseries and play groups are invited to submit entries for the 2015 competition. These will be displayed in numerous local shopfronts in Hebden Bridge / Mytholmroyd. Members of the public can then vote for their favourite duck on the Rotary website with a prize of £100 for the Nursery, Playgroup, School winners of each category,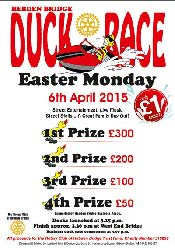 The local business community also continues to support the event and Rotary Club of Hebden Bridge will, once again, be organising a Local Business Sponsored Duck Race, which is held just before the main event - with the winning red, green or blue ducks giving their business owner the kudos of displaying winners trophies and plaques.

All profits from this event are used by the Rotary Club to support mainly local, national and international charities, together with other worthy causes. The event also generates substantial income for numerous local businesses during the event.
Looking forward to seeing you all there on Easter Monday.
Previous coverage of the Duck Race on the HebWeb