The After Alice Project
Wednesday, 11 March 2015
We're all living in what we like to think of as "the Media Age" with sounds and images shared countless times around the world in barely more than a moment's thought, but, as Google vice-president Vint Cerf recently warned, we are probably deceiving ourselves and future generations may well look back and label us "the Digital Dark Age". Increasingly everything from high art to the smallest human achievement is recorded in purely digital format, and we are so busy celebrating miraculous innovation and increased potential that we've become careless with creativity, and risk losing all permanent record of our most precious moments to obsolete software and catastrophic data loss.
Now residents of Hebden Bridge and the Upper Calder Valley have a chance to help ensure all aspects of our everyday lives will be recognised and remembered in the years to come.
The After Alice Project - named after Hebden Bridge's most famous photographer Alice Longstaff - is encouraging experienced and novice photographers alike to have a go at capturing images on film and logging the negatives in a centrally-conserved archive. Current estimates are that modern film negatives can be safely preserved for anything between one and four centuries - which is something to think about next time you use Snapchat.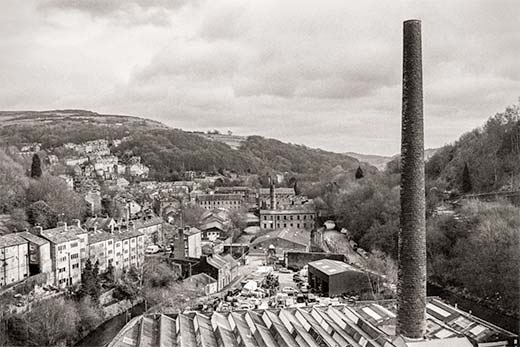 We often imagine what a film of our lives would be like - but After Alice is asking you to imagine what a documentary would be like. What would be important to you? Changing fashions? Sporting achievements? The disappearance of old buildings and the emergence of new ones? In our valley's life - where every small town has a calendar filled with festivals and every possible room for hire hosts live music, amateur theatricals, comedy clubs, and every sort of group and society - is there not something for future generations to marvel at? You could document a day at work, or a night out. You could record what happens at your school or what is seen in your street. Ask yourself: what would matter? What will be gone in 25 years, or 50?
Images taken by the Project can be viewed by anyone on the After Alice Facebook page - but the important difference is that behind these images is a semi-permanent film negative and not a fragile digital file.
How You Can Help: If you have an old 35mm film camera hidden away in the drawer - or indeed any other items of film and camera paraphernalia - why not consider donating them to the Project? They will be refurbished and given a new lease of life loaned out to photographers of all ages - in fact, many of the cameras may well be older than the person taking the picture! You can drop your donated items off Monday-to-Saturday at Word of Mouth, Valley Road, Hebden Bridge HX7 7DD who have kindly agreed to help support the Project. Unfortunately, we can't take 110mm, or APS / Advantix items because the films for these are no longer made.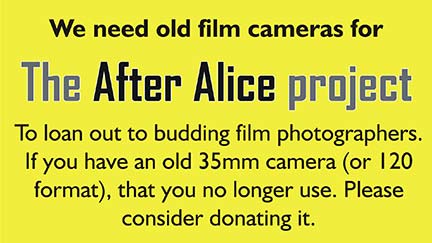 How You Can Get Involved: If you already take images on film, if you used to, or would like to give it a go for the first time why not join the Facebook group and consider becoming a member of the Project? If you haven't got a camera you can pick one up cheaply on Ebay or from charity shops, or you can borrow one from the Project for a small fee. Your After Alice camera will come preloaded with B&W film and the fee will cover the cost of developing it - you will get high resolution images sent to you for sharing or printing as you wish, and the negatives will stay in the After Alice archive for future generations. If you think you need a bit of help getting started then After Alice will be offering open sessions and affordable workshops in the near future.
Even if you're not a photographer you can still help by letting the Project know about interesting events, or anything else you think should be recorded and preserved. The towns and people of the Upper Calder Valley have a reputation for doing things well, and for doing them differently - wouldn't it be terrible if future generations could only wonder why?