Festival of Burlesque and Alternative Cabaret
Thursday, 26 March 2015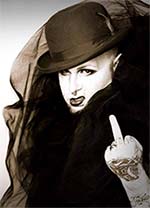 The Hebden Bridge Burlesque Festival was launched in 2013 by Lady Wildflower and Heidi Bang Tidy who together they have over fifteen years' experience of staging live events and Burlesque shows. Originally a 2 day event, the festival has grown to "the biggest event of its kind in Europe".
Performers and audiences travel from across Europe and beyond to make an annual pilgrimage to The Calder Valley for promoting and showcasing what the organisers call "one of the most diverse live art forms in the world."
From Thursday 30 April to Sunday 3 May, Heidi Bang Tidy and Lady Wildflower will be bringing the glamour of Burlesque to Hebden Bridge and neighbouring towns Todmorden and Mytholmroyd for the Hebden Bridge Burlesque Festival, which last year saw over 800 tickets sold for the 3 day event, pulling visitors looking to enjoy a long weekend of alternative cabaret.
This year's Festival looks set to break their own Box Office records with over 700 tickets already sold for the weekend's events and several shows sold out with more than a month to go.
Putting the spotlight on Burlesque as an art form, The Hebden Bridge Burlesque Festival is a celebration of diversity, that brings together performers of different ethnicities, genders, orientation, sizes and ages.
Lady Wildflower who has been performing Burlesque for over 6 years and was recently named in the Top 20 Burlesque Performers in the UK told the HebWeb, "In the 1940s and 50s Burlesque was a truly grand affair that combined live music with comedians, variety acts and, of course strip tease artistes: beauties who captivated their audience with the art of tease."
Her co-producer, Heidi Bang Tidy adds, "Burlesque has evolved from those roots so that today's Burlesque audiences can enjoy top quality live entertainment where showgirls perform alongside fire acts; aerialists alongside mime artists; comedians alongside contortionists. We're really passionate about Burlesque and we want the Festival to celebrate the heydays of vintage glamour as well as showcasing some of the hottest alternative cabaret acts on the scene."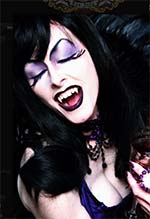 This year's Festival has attracted some of the biggest stars from the world of alternative cabaret, including award-winning Compere and host of one of Edinburgh Fringe's most popular Cabaret Shows, Lili La Scala and Vicky Butterfly, who has sizzled on the stages of the world-famous Moulin Rouge and Cafe De Paris.
The Festival will see the Calder Valley over-run by Burlesque performers and fans as it hosts 8 live events, in 5 venues across 3 towns, featuring over 40 performers.
Additional acts include Russell Bruner, the most in-demand Vaudeville Artist will be flying in from the USA; the multi award-winning Boy With Tape on His Face; Winner of Burlesque Idol 2012 - Violet Blaze; and Tidy & Tips, a comedy burlesque duo from Yorkshire.
Visitors can also sign up for a series of workshops that will take place throughout the weekend, including Burlesque for beginners, fan dancing, hooping and vintage hair styling.
For bookings and further information visit the website.
Previously, on the HebWeb
HebWeb News: Town Council vetoes Burlesque Festival from using The Picture House. (June 2013)
HebWeb Forum - Burlesque Festival (June-July 2013) 133 contributions