Morning Star Readers' and Supporters' fund-raiser
Tuesday, 7 April 2015
The Upper Valley's Morning Star Readers' and Supporters' group is staging another fund-raiser for the national newspaper they bill as "the voice of Britain's labour and trades union movement."
The comrades, and friends and supporters, will be at the Trades for a gig on Sunday afternoon, April 12, from 2pm to 6pm.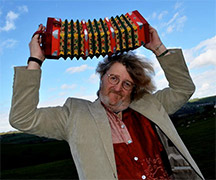 Headline act is Tim Moon. Tim plays over 100 instruments and divides his time around concerts, writing, recording, community arts, radio, session work and outdoor performance. He has played Glastonbury Festival twice, appeared on stage with Chumbawamba, Fairport Convention and a plethora of others.
He is a member of Moon de Lune with Peadar Long, was in The Sex Patels and, briefly, the Incredible String Band.
Also performing is Rochdale's Icarus Williams, who last year completed the 300-mile People's March for the NHS from Jarrow to London. And there's a sketch by upper valley actors Nicola Vincent and Ruth Urquhart entitled "Waiting for George."
Pete Lazenby is MC.
The gig includes curries, stalls, a raffle with prizes from Cuba and Venezuela. Tickets £5 and £4.