Election Hustings in Hebden Bridge
Updated, Wednesday, 15 April 2015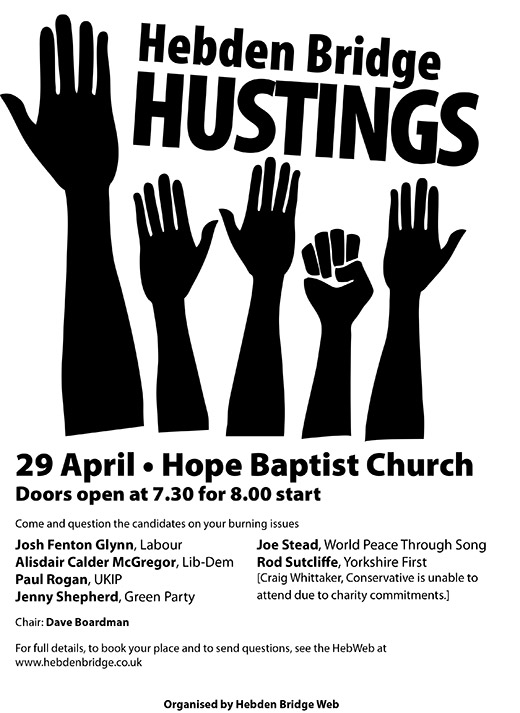 Poster designed by Mike Barrett of Frogs Design.
Download PDF of poster for printing and publicising the event
At the end of last week, the HebWeb was approached by local resident, Sara Robinson who pointed out that there didn't appear to be any Election Hustings taking place in Hebden Bridge. After some discussion, the HebWeb agreed to try and organise one.
The Hebden Bridge Election Hustings will be on 29 April at the Hope Baptist Church. Doors will open at 7.30pm and the event will start at 8pm. We expect it to finish at approx 9.30pm, 10pm latest if the questions keep flowing. Refreshments will be available from 7.30pm and there will be a mid-way break.
The Hustings will be chaired by Dave Boardman who many will know as local quiz-master, music and events organiser and from his popular interviews on Phoenix Radio.

Six of the seven general election candidates standing in the Calder Valley constituency have accepted our invitation to take part. They are Josh Fenton Glynn, Labour; Alisdair Calder McGregor, Lib-Dem; Paul Rogan, UKIP; Jenny Shepherd, Green; Joe Stead, World Peace Through Song and Rod Sutcliffe, Yorkshire First.
We tried to be flexible and changed the day once to fit in with one of the candidates who couldn't make the original date. However, it was never going to be easy trying to find a day suitable for all seven candidates (and a large venue) at such short notice.
The one candidate who is unable to attend is Craig Whittaker, the Conservative candidate and MP for the past five years. He has a long standing commitment with his charity on that evening. We are continuing to make representations to the Conservative Party in the hope that they will be able to provide a speaker who could represent his views on the evening.
Book your place
We have set up an Eventbrite page for people to book their places
Send us your questions
If you have a burning question for the candidates please send them to the HebWeb. We will choose the first questions for the evening from those we have received by email. There will also be an opportunity for questions from the floor on the evening. Questions should be sent to questions@hebdenbridge.co.uk.
Look back here for any further details.
Many thanks to Jason Elliott for the following one minute video:
See also:
HebWeb Election Section for latest news, around 100 contributions to election discussion, answers from the candidates to HebWeb questions and more.