Calderdale Liberal Democrats launch local manifesto
Tuesday, 21 April 2015
Thanks to Calderdale Liberal Democrats for the following
Calderdale Liberal Democrats have set out their ambitions to improve local services with the launch of their local election manifesto for Calderdale. The Liberal Democrats are to date the only party that has produced a local election manifesto for the Calderdale Council elections that will take place on May 7th at the same time as the general election.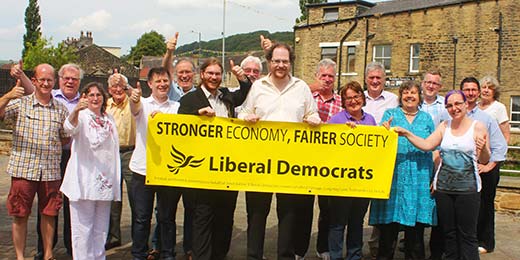 The manifesto sets out policies and ideas the party would implement if they were running the Council. Some of the highlights of their manifesto include:
A commitment to resurface local roads that they argue would have suffered under Labour's alternative budget that proposed nearly £800,000 worth of cuts from the highways budget.
Reforming the Council's top heavy management structure and sharing "back office" functions with other local organisations and services to make the Council more efficient.
Exploring the possibility of the debt on Calderdale Royal Hospital being bought out to get rid of the debt that Labour saddled local people with.
Continuing to improve waste collection and recycling to include garden waste and plastics.
Involving local people more in how the Council makes decisions through consultations, ward forums, web casting meetings and opening up planning committees.
Commenting Councillor Janet Battye Liberal Democrat group leader said, "Our local election manifesto is full of ideas from our grass roots members who are all Calderdale residents. As a democratic party our members have had a real say in shaping this manifesto."
Councillor James Baker (Liberal Democrat Deputy Leader) added, "On May 7th there are two elections and people will have two decisions to make. This manifesto demonstrates our serious commitment to improving local services and the difference voting Liberal Democrat locally will make."
Download manifesto here (pdf)