Shadow Environment Secretary highlights Labour's Green Plan in Hebden Bridge
Monday, 27 April 2015
Shadow Environment Secretary, Maria Eagle joined Labour's Parliamentary candidate Josh Fenton-Glynn in Hebden Bridge on the day the Labour Party launched its Green Plan.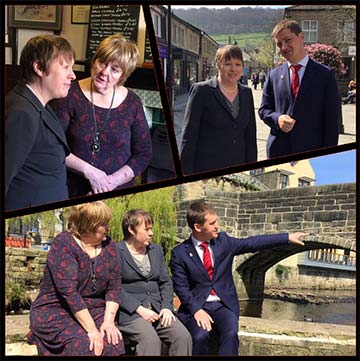 She met with local resident and landlady Liz Wood in the White Swan. Liz told them about her experiences of flooding in the town and the crippling affect it had on her home and livelihood.
White Swan Landlady, Liz Wood said, "I really appreciated Maria and Josh taking the time to listen to my experiences of flooding here in Hebden Bridge. I can't get flood insurance now, so my business will go under if we're flooded again. They've given me some hope that a Labour Government would reprioritise flooding and have a plan to prevent and protect flooding in communities like mine in future.

Labour told the HebWeb that it recognises that climate change is one of the greatest threats facing the world today, and believes that we must work hard at home and abroad, to tackle it. That their plans to tackle climate change must go hand in hand with their economic plans. Labour's plan would make Britain a world leader in low carbon technology, creating a million new green jobs – for a better environment and a better economy.

Labour say that as well as working to prevent the worst effects of dangerous climate change, they need to adapt to cope with those problems that climate change is already causing, including here in the Upper Valley of Calderdale.

Labour say they will take flood protection seriously, and reprioritise flooding as a core responsibility of Defra. They will insist on a long term approach and prioritise preventative spending on flood defences. Creating habitats for wildlife and urban green spaces would have the effect of absorbing excess rainfall and reducing river flows.

Shadow Environment Secretary, Maria Eagle said, "We can't afford another five years of David Cameron. It would place tens of thousands more homes at risk of flooding because of the Tories' failure to prepare and protect the UK from the impact of dangerous climate change.

"Labour would prioritise flood prevention and introduce a new climate change adaptation plan to help us properly prepare for the effects of a changing climate. This could really help places like here in Calder Valley.

Parliamentary Candidate, Josh Fenton-Glynn said told the HebWeb, "I remember David Cameron promising to lead "the greenest government ever". He has well and truly broken that promise. His government has been a disaster for the natural environment, has left thousands of homes at risk of the effects of extreme weather, and has no plan to tackle climate change.

"We know only too well the effects of extreme weather in Calder Valley, which has been hit by a series of floods in recent years. People round here will neither forgive nor forget that the Tories slashed flood defence funding and downgraded flooding as a priority, leaving hundreds of families and businesses at risk."
The HebWeb asked what other Climate Change policies Labour had. They replied as follows:
We'll champion increased ambition on climate change from all the world's major economies. Tackling climate change is an economic necessity and vital for our children, our grandchildren and future generations. We'll push for a goal of net zero global emissions in the second half of this century.
We'll take strong domestic action on climate change mitigation and adaptation. As well as working with our partners abroad, Labour in Government will show leadership at home to tackle climate change. We'll set a decarbonisation target for 2030 for electricity, insulate 5 million homes over 10 years to reduce both energy bills and emissions and we'll publish an ambitious new national adaptation programme to reduce flood risk.
We'll create a million new green jobs. The transition to a low carbon economy is a huge opportunity for Britain. We're determined to take advantage of this opportunity by making Britain a world leader in green technology and innovation over the next decade. We'll develop an active industrial strategy for the green economy.
We'll protect the public forests and bring nature closer to people. Our Labour values tell us that everyone should have access to nature whoever they are and wherever they live. Our 25 year plan for the recovery of nature will protect the public forest estate from the threat of Tory privatisation. Our plan will also bring nature closer to people by planting new woodland and trees closer to where more people live.
We'll make Britain a global leader in marine protection. The previous Labour Government did more for marine conservation than any government before or since. We'll build on that proud record by protecting more of our oceans than any other government in history. We'll also establish a coherent network of marine conservation zones around Britain and ensure fishing quotas support a thriving industry as well as the protection of the marine environment.