Waving Goodbye to Nuclear Weapons
Wednesday, 29 April 2015
On Monday, anti-nuclear campaigners linked up the Calder Valley with places around the world when they took part in the 'Global Wave'.
The Global Wave Goodbye to Nukes was timed to mark the start of the review of the Non-Proliferation Treaty taking place in New York.
The actions happened at exactly 1.20pm local time so the wave spread from New York, around the world via Hebden Bridge (and Mexico City, Guam, Sydney, Tokyo, Kenya, Bethlehem, Geneva and many places in between), and back again.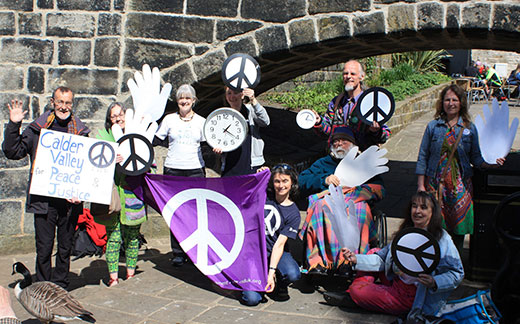 Governments are meeting at the United Nations for the five-yearly review of the nuclear Non-Proliferation Treaty (NPT). Civil society is calling on governments to end the threat of nuclear weapons by negotiating for their complete prohibition and elimination – a requirement of the NPT
Pictured waving are people from the new group Calder Valley CND for Peace & Justice. One of the campaigners, Kathy Pitt, said
"We're a new group, trying to draw attention to the huge decision that the government must make in 2016 about replacing Trident at a cost of £100 billion. This Global Wave seemed like a good first step for our group to take, becoming part of a worldwide movement against nuclear weapons. But it's also a chance to highlight the issue locally, especially with the election so close, and remind people that they too can get involved".
The group are also planning a stall at Alternatiba Todmorden, their next meeting is Wednesday 13th May, 7.30pm at Hope Baptist in Hebden Bridge, and they can be found on this FaceBook page