Riverside rated a good school
Tuesday, 5 May 2015
Staff, Pupils, parents are celebrating after Riverside School was rated good after a tough Ofsted inspection.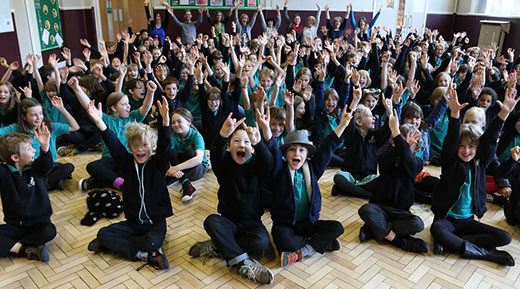 It is a remarkable turnaround for a school placed in special measures only three years ago, and the inspectors found the school is now good across the board in leadership and management, behaviour and safety of pupils, quality of teaching and the achievement of pupils.
The inspection team found that warm and friendly relationships underpin the daily life of the school driving rising pupil attainment, which is well above average in reading, writing and mathematics.
The school's strong leadership was a key factor in the new rating, and the inspectors was impressed by the effective teaching that sustaining the pupils' enthusiasm for learning in a safe and happy school.
Riverside Headteacher Cathy Greenaway said, "Everyone at Riverside is absolutely delighted that our sustained hard work has paid off.  I would like to pay tribute to the dedication of the school's teachers who have worked tirelessly in their classroom to get this rating, but equally to the commitment and professionalism of teaching assistants and support staff, this truly has been a team effort.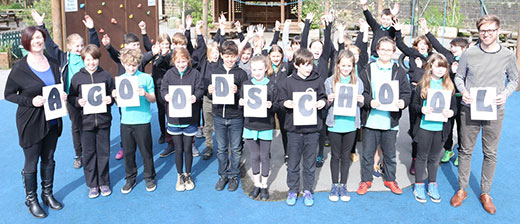 "But most of all I want to thank the 156 pupils who make up our supportive school community and this good rating is all down to them. They are a wonderfully talented, focused and kind group of children who work hard every day to do their best which was noted by the inspectors."
The school's recovery plan was devised by the school's Senior Leadership Team in conjunction with the governing body who the inspectors described as effective and giving the school a foundation to improve still further. The governors undertook a root and branch of the school's operations to improve their ratings with the support of parents.
Chair of Governors Jon Hairsine said, "This has not been an easy process, but thanks to the voluntary efforts of a very committed and talented set of governors we knew we could turn things around. I have to thank all our parents who tell us very clearly what they think, turn out for school events and responded to the inspector's online questionnaire, which we believe was critical in helping us secure this rating.
Riverside have now set their sights firmly on becoming an 'outstanding' school and this Ofsted report clearly shows they are well on their way to achieving it.  
Riverside Junior School website