Hebden Bridge Folk Roots: weekend of 15-17 May
Sunday, 10 May 2015
Hebden Bridge Folk Roots festival brings together the community of folk music from the finest in Yorkshire talent to the deep South of the States.
On the Friday evening (15 May) we have many events to tempt you along. At the Hope Baptist Chapel we have Molly Tilston, Taste Buds & BBC Folk favourites Josienne Clarke and Ben Walker. There is right good old knees up 'Last Chance Saloon Ceilidh' at the Town Hall with The Factoryline presenting 'Songs of the Sea' with poetry from John Siddique and a Shanties sing along.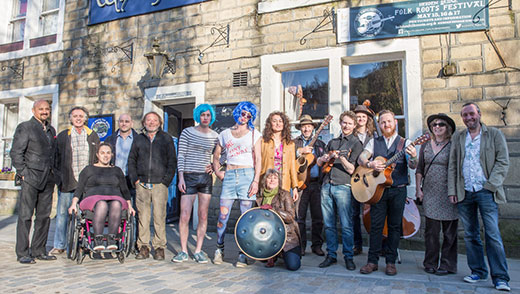 There are a number of international musicians playing over the three dates, Hebden Folk Roots Americana being one of the main attractions of the event on the Saturday evening at the Hope Baptist Chapel. My Sweet Patootie is an acoustic roots group from rural Ontario bringing twining vocal harmonies, monstrous fingerstyle guitar, fiddle, percussion and abundant charisma together in one perfect package. Then closer to home we have, The Holcombe Family String Band who are Leeds based, bring to life ragtime, hot jazz, hokum and western swing of the 1920's, 30's and 40's music.
Ursula Holden-Gill is an award winning Actress but now she has walked into the limelight as a highly gifted storyteller. As well as being an insightful comedienne and a very impertinent musician she has that rare gift of authenticity in her humour.
"Ursula has her own cheeky way of recounting tales of the strange"
(Society for Storytelling). Voted Best Newcomer at 2012 British Awards for Storytelling Excellence.
My Mate Rumpelstiltskin show will be on at Stubbing Wharf on Saturday 16th at 8pm. The stories and songs that feature in this collection are a fusion of Ursula's original material, with traditional folk and contemporary influences. Picking up where her award winning 'Fairies in the Gutter' left off, this set spins out a similarly magical thread; reflecting on those very real, eccentric unsung heroes that can still be found bumbling along amid the grit and grime of urban decay. 2 x 45 Minutes Show: Suitable for Adult Audiences and Older Children)

There are a number of workshops happening over the weekend from a French dance, storytelling, dry stone walling, hurdle making to African drumming. Music will be found in The White Swan, The Oldgate, Stubbings Wharf, Fox and Goose, The Crown during the day to evening time.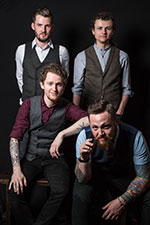 On the Sunday evening we have Tales of Two Counties playing at the Town Hall. Three Lancashire Lads and a Yorkshireman bringing you Bluegrass Folk Rock like no one else, producing the most addictive footstomping music created. With their own individual take on Folk/Bluegrass the bands are exploding on to the unsigned Folk music scene and there will be a showcase of young talent performing too in connection with the White Ribbon Campaign.
Local performers include Lucy and the Caterpillar, The Tiny Minds, Creedy, Brian Toberman, Fiona Love, The Cobblestones, James Bragg and more....
Please take a look at our website for more details on the event and to purchase the £25 weekend ticket or single tickets to the paid events here: www.hebdenfolkroots.org/