Old Fire Station site car park closes
Monday, 29 June 2015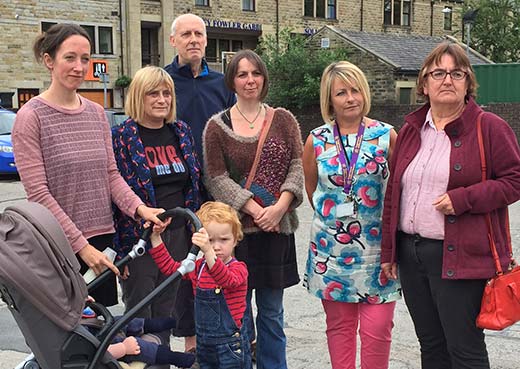 The owners of the Old Fire Station land have reacted to the Council's refusal to allow them permission to build a Sainsbury's by closing the car park.
Calderdale councillor Janet Battye, pictured today (above right) with other protesters, has told the HebWeb, "It's a real shame that, in the wake of losing the appeal against refusal of planning permission to build a Sainsbury's supermarket on the old Fire Station site in Valley Road, the owners have decided to close the carpark.
"Undoubtedly it has come to the end of its planning permission and Calderdale Council have said that it needs work doing to the surface of it. Neither of these should be insurmountable."
Developers to close old Fire Station site car park?
Tuesday, 26 May 2015
As reported on the HebWeb on Friday, the application to build a Sainsbury's supermarket on the old fire station site has been finally rejected. (HebWeb News: Sainsburys Loses Appeal).
It emerged in documents submitted as part of the Appeal and before the Inspector's decision was made that the owners intend to close the 39 space car park in any case, whether the decision was either to accept or reject the appeal.
A letter dated 7th May says, "In his response the transport consultant states that the use of the appeal site as a car park is to cease. I can confirm that there is now a specific date for the closure which is 25th June and that therefore, and notwithstanding the outcome of the appeal, the site will not be available for parking after that date."
In making her decision to reject the Sainsbury's appeal the inspector said, "I consider the main issue for the appeal to be the effect of the proposal on highway safety, including the loss of parking."
See also:
HebWeb News: Sainsburys Loses Appeal (22 May 2015)