Nutclough Mill Book Launch
Monday, 29 June 2015
This Sunday sees the launch of All Our Own Work, Andrew Bibby's history of the HB Fustian Manufacturing Coop, a famous nineteenth century worker-run coop. Trades Club, 1pm-2pm.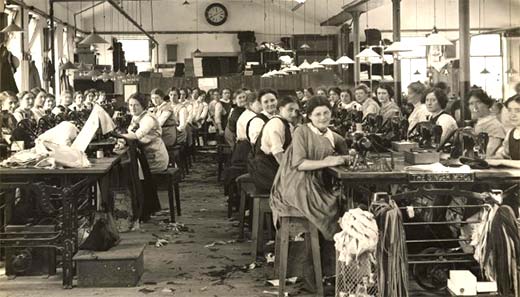 See below for more info, and this article in Co-operative News (19 June): How a northern town helped pioneer the workers co-op
"Co-operators look up to Hebden Bridge Fustian Workers in productive co-operation just as they do to Rochdale in respect to distribution." - Rochdale Observer, June 4 1892
Hebden Bridge's Nutclough Mill - home to one of the first Workers' Coops
Wednesday, 3 June 2015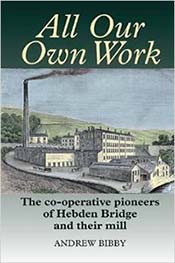 Local writer, Andrew Bibby has written a richly researched and engrossing account of the fustian workers' co-operative which started in 1870 at the Nuclough Mill and ran for 50 years, each year profitable.
The lessons learned in Hebden Bridge are still relevant today for all who seek to find new ways of working and alternative forms of business.
The co-operators of Hebden Bridge were to producer co-operation what the Rochdale Pioneers were to consumer co-operation – pioneers. Driven by a desire to create their own employment under their own control, weavers, cutters and machinists at the Nutclough fustian mill developed a successful business in a small Pennine town. At its peak it employed over 300 women and men.
Creating a new way of working wasn't always easy. There were discussions about sharing the rewards of the business, and on how much power those who provided the capital should be given. How should governance be structured and what was appropriate management? Should the mill produce quality products or poorer goods that sold better?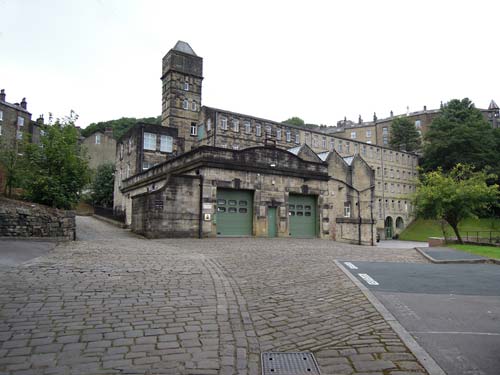 Hebden Bridge's fustian co-operative contributed leaders to the national co-operative movement and to the emerging movement for workers' education. Its central figure Joseph Greenwood was involved in the creation of the International Co-operative Alliance. Women associated with the co-operative set up in Hebden Bridge the first branch of the Women's Co-operative Guild in the country.
Book launch
Sunday 5th July, 1pm
HB Trades Club, Holme St, Hebden Bridge
"For a cooperator not to know Hebden Bridge is to argue himself unknown… Just as by magical association of ideas we link Rochdale with successful cooperative distribution, we are coming to link Hebden Bridge with the idea of successful co-operative production. The story of Rochdale has been often told; the history of the Hebden Bridge Fustian Manufacturing Society equally deserves the attention of our co-operative historians." - Cooperative News, July 9 1881
See also: