Wainsgate Concert: The Great Folk Roots Picnic
Thursday, 18 June 2015
Wainsgate Chapel's concert season continues on Saturday June 27th with The Great Folk/Roots Picnic, an all-afternoon event when traditional music from all parts of the globe will be heard not only in the chapel itself, but all over the building and grounds.
The Great Folk/Roots Picnic, a collaboration with Hebden Bridge Arts Festival and taking place on the first full day of a very exciting festival week, features three of the brightest young artists and bands on the UK scene. There's virtuosic folk fusion from the award-winning quintet Project Jam Sandwich, folksong and bluegrass from the superb Carrivick Sisters and finally some irresistible Turkish and Middle Eastern folk music from the six-piece Paula Darwish Anatolian Folk Band. Interspersed with all this will be open-mic sessions and impromptu performances by various local artists.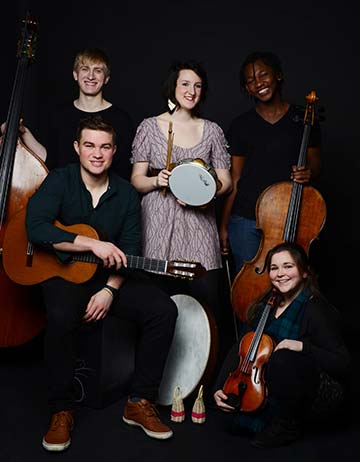 Project Jam Sandwich are an extremely talented group of young instrumentalists who offer a fresh and unique take on traditional folk music from around the world. Exciting, vibrant and bursting with ideas and musical excellence, their music ranges from Eastern European and South African to Celtic reels and English folk. The band, who have been aired on Radio 3, and who have performed at Celtic Connections, concoct their own charismatic arrangements to create a varied, acoustic show of exhilarating improvisation, scorching rhythms and beautiful melody.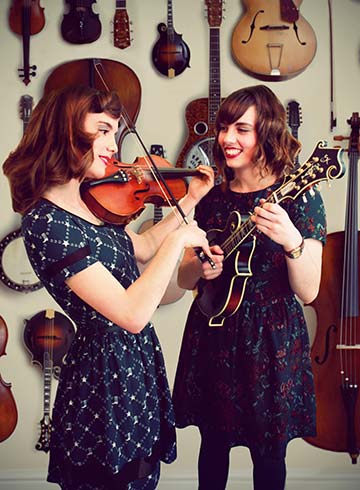 The Carrivick Sisters are one of the UK's top young bluegrass and folk acts. Twins Laura and Charlotte perform their original songs and instrumentals along with a few carefully chosen covers on guitar, mandolin, fiddle, dobro, and clawhammer banjo. Their busy touring schedule is rapidly building them a reputation for engaging and entertaining live performances with tight sibling vocal harmonies and multi-instrumental virtuosity. Having grown up in South Devon, an area rich in folk lore and legends, much of their original material is inspired by their local surroundings and history.
As well as touring all over the UK, the Carrivick Sisters have performed at major festivals in Canada and mainland Europe. Their fifth CD, "Over the Edge" was released in October 2013. "A superbly talented pair o' lasses" according to Mike Harding on BBC Radio 2!
Paula Darwish has been charming audiences with her unique mix of music from Turkey and the Middle East for over fifteen years. Blending beautiful ballads with ubiquitous Anatolian folk dances like tsiftetelli and halay, her band's passion and energy is as hard to resist as their global rhythms. Alongside more common instruments such as electric guitar and bass, the band features the traditional Anatolian saz and the classic Middle Eastern darbuka drum. Their music is a rich tapestry of influences from the many different cultures that have inhabited Anatolia, including Turks, Greeks, Kurds, Albanians, Armenians, Assyrians, Arabs and Georgians. Paula Darwish previously led the Manchester-based Country and Eastern Band for years and has toured in Turkey and several other European countries.
"Every so often we stage a special large-scale event like this up at Wainsgate, and they've always been hugely enjoyable and memorable occasions", Wainsgate concert organiser Dave Nelson told the HebWeb. "We'll be providing tea and coffee all day, but we hope people will join in with the spirit of the event by bringing picnics and whatever other refreshment they may need. Obviously we're all hoping for a wonderful summer's afternoon, but it'll still be a great day whatever the weather".
The Great Folk/Roots Picnic starts at 1pm and finishes around 6pm. Day passes costing £20/£15 and tickets for individual concerts (£9/£7) are available from the box office at Hebden Bridge Town Hall, and on line via www.hebdenbridgeartsfestival.co.uk and www.wainsgate.co.uk. Children of 15 and under are admitted free of charge, and events other than the three headline concerts are free to all ticket holders.
Wainsgate Chapel is on Wainsgate Lane, Old Town, Hebden Bridge HX7 8SU. Parking there is limited and reserved for artists and disabled drivers. There are plenty of footpaths for those who'd like to walk from Hebden Bridge or there's an hourly bus service to Old Town Mill Lane (opposite Wainsgate Lane) where parking is also available.
Previously, on the HebWeb