Calder Valley MP's snub to climate change delegation
Saturday, 20 June 2015
Calder Valley MP Craig Whittaker refused to meet a long planned delegation from his constituency to Parliament, as part of the national Climate Coalition lobby of Parliament last Wednesday 17th June, despite previously having said that he would, and although he was in the House of Commons at the time.
Anthony Rae from Calderdale Friends of the Earth (and a member of the Calderdale's Energy Future partnership) told the HebWeb, "This event has been months in the planning, in Calderdale and around the country, and lots of people have put an extraordinary amount of effort into it. It was cross-party, with all three national party leaders having endorsed the Climate Coalition's three pledges in February. Those pledges were also endorsed by both Craig Whittaker and Holly Lynch, the MPs for Calderdale. Locally our climate change partnership Calderdale's Energy Future (CEF) - which brings together the public, private and voluntary sectors - set to work to identify all the problems and opportunities around climate and energy that needed to be tackled in this next Parliament, because by the time it ends in 2020 Calderdale has to have reached the district's established target of a 40% reduction in CO2 emissions (from 2005 baseline).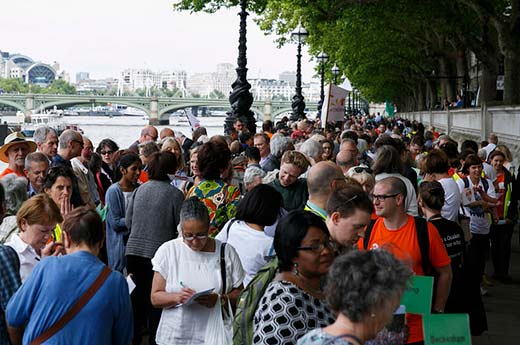 But so far we are not on target to achieve that because the approach of the 2010-15 government appeared to be that they didn't care whether local carbon reduction happened or not; there was no proactive support for local initiatives and crucially the Green Deal programme to make homes better insulated and more energy efficient simply didn't deliver on a large enough scale. The CEF partnership knew we have to make a fresh start with the new government and so it drew up a wide-ranging Action Plan of measures we could take to the Lobby to speed our move to a lower carbon future, with contributions from the Council, Mid-Yorkshire Chamber of Commerce, businesses and community groups. It was this in particular we wanted to talk about.

On Monday 15th June both the action plan and the lobby received the support of Calderdale Council, and prospects for the delegation - headed by Adam Luqmani, CEF chair and the Halifax Courier's Green Champion of the year - look promising. Craig Whittaker had told Anthony Rae two months before - at the Todmorden hustings on Thursday 16th April, when he endorsed the national pledges and was told about the national Lobby on 17th June - that "I will put the date in my diary", a little joke expressing his self confidence of being re-elected. Halifax MP Holly Lynch had confirmed she would meet the Calderdale delegation at 2pm.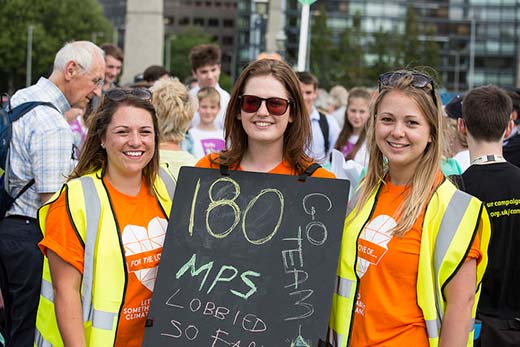 Then on Tuesday, a phone call to Craig Whittaker's Westminster office, just 24 hours before the event, went like this:
"We spoke yesterday about whether Craig would be able to meet the Calderdale delegation?"
"I'll just check." [Goes away from the phone, then returns] "I'm afraid he's not going to be able to meet the delegation, he's got back-to-back meetings."
"But he said on 16th April that he would put the date in his diary."
"I'm sorry he's not going be able to meet the delegation."
"This is really disappointing. Lots of people have put so much effort into organising this."
"I'm sorry he's not going to be able to meet the delegation."
"But this is really disappointing. People have already bought their travel tickets to come down to London."
"I'm afraid he's not going to be able to meet the delegation."

The sequence of contacts with Craig after his 16th April apparent agreement to meet the delegation went like this: 11th May (four days after the election): email to Craig Whitaker confirms 17th June date and describes the importance of the event - no response 5th June email describes the gathering momentum of the process in Calderdale preparing for the delegation - no response 5th June request also sent via the Climate Coalition 'Invite your MP' online app - no response 10th June phone call to Craig Whittaker's Brighouse office:
"Will he meet the Calder Valley delegation? He said he would on 16th April and we've sent previous messages."
"We've got a backlog of emails after the election. You'll have to wait a few days." – no response after that Monday 15th June phone call to his Westminster office: "Will he be meeting the Calder Valley delegation? The event is on Wednesday."
"I'm sorry I don't have access to his diary. I'll refer this to his senior assistant who's in tomorrow."

Anthony Rae continues: "When by 10.30am on Tuesday 16th June I still hadn't heard anything I phoned again, to be told the bad news. Even though the explanation was that Craig had 'back to back meetings', preventing him meeting the delegation, there was no attempt to identify a gap in his diary, even for 5-10 minutes, and any time up to 6.30pm when I went off to attend a reception with Amber Rudd MP, Secretary of State for Energy and Climate Change (who, by the way, gave really positive responses to questions put to her). Nor has there been any subsequent call, email or letter giving an apology or explanation - for example, an extraordinary diary mix-up - nothing at all. And it turned out from other Calder Valley constituents who came to the lobby, having paid for their travel down to London, that they too had received no responses to their requests for a meeting. In the circumstances the only conclusion I can draw is that this was some kind of deliberate snub, which is just really odd considering the support Craig expressed on 16th April."
"If so this was discourteous, petty and very damaging to many of his constituents. He has done a disservice to them all."

"We had collected messages from Calder Valley people, expressing their anxieties about climate change and suggesting ways in which it could be tackled, so that our MP could understand the depth of feeling on this issue. We took with us colourful bunting prepared by Calder Valley children showing the same concerns in their own way."

"We had wanted to talk about issues of great importance to the Calder Valley: the need for better funding of the infrastructure programme responding to the 2012 floods, which caused so much devastation to families and businesses; the opportunity to electrify the Calder Valley rail line; the need of thousands of people for warmer homes and lower energy bills; the opportunities for low carbon businesses, and green growth & jobs; the need to urgently tackle global climate change and move to clean energy. And much more."

"But apparently none of this matters."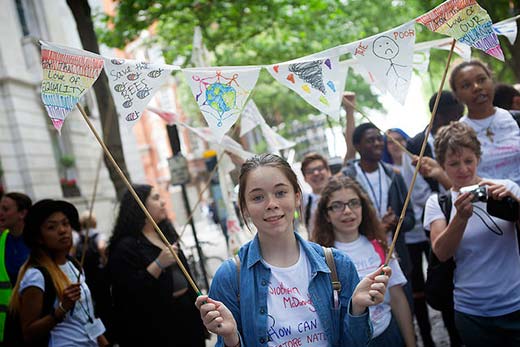 Despite this disappointment the Calderdale delegation had a positive meeting with Holly Lynch MP for Halifax and presented her with the Calderdale action plan. Anthony Rae has written to the Secretary of State also sending her the Action Plan. Some 300 MPs took the trouble to meet their constituents to talk about climate change and energy.
See also
HebWeb Forum: Craig Whittaker's Climate Change snub