Blackshaw Head Methodist Chapel: 200 years
Tuesday, 14 July 2015
On Sunday 12th July, the photo of people gathering at the Chapel from over a century ago - see below - was recreated.
Blackshaw Head Methodist Chapel: 200 years
Tuesday, 7 July 2015
This coming Sunday (12th July, 12 noon), an attempt will be made to recreate this photo from a century ago, and as many people as possible are needed to take part.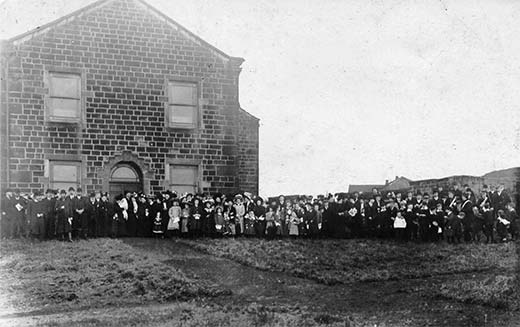 Blackshaw Head Methodist Chapel, on the tops above Hebden Bridge, is two hundred years old this year. Click photo to enlarge
The Chapel was built at a time when the upland cottage hand-loom industry was just starting to disappear in the face of the industrialisation of the weaving trade in the valleys due to the coming of first the canal and then the railways. It nevertheless flourished for the first years of its existence, with a Sunday School being added in 1838, which by 1843 was recorded as having 66 teachers and 240 scholars.
Twentieth century population shrinkage and religious decline and the emergence of new forms of entertainment began to sideline the chapel, until by 1980 it faced the threat of closure and demolition. The building came back from the brink, due to the efforts and determination of church members and the local community, and now stands, renovated and modernised, at the centre of village life.
Local history group 'SHED' are compiling an exhibition tracing the history of the chapel, which will be on show in the building at this year;s village fete on 5th September. The remarkable photograph above was taken in around 1908, possibly on the occasion of the extension of the graveyard.
Nothing more is known about the circumstances in which the picture was taken.
As part of the 200th Anniversary celebrations the church would like to recreate a contemporary version of the picture.
They are inviting anyone who has a connection with the building, whether they attended a group that met there, came to events or meetings, went to Christmas services, or simply live around it or pass by, to turn up at noon this Sunday 12th July at midday. Local photographer Vanessa Kay will take the picture, and there will be tea and cake, a display of some of the history exhibition, and an opportunity to look round the newly decorated chapel. And, of course, the chance to be recorded for posterity!