Calder Valley Voices' Charity Summer Concert
Wednesday, 8 July 2015
Fresh from their trip to Whitby for the National Street Choirs Festival, Calder Valley Voices has arranged a concert of beautiful, restful and rousing songs from around the World. 
Everyone is welcome at the charity concert in Hebden Bridge on Thursday 16th July, from 7.30pm.   All the proceeds will go to the WomenCentre in Halifax, which works to improve the quality of life for women both locally and nationally.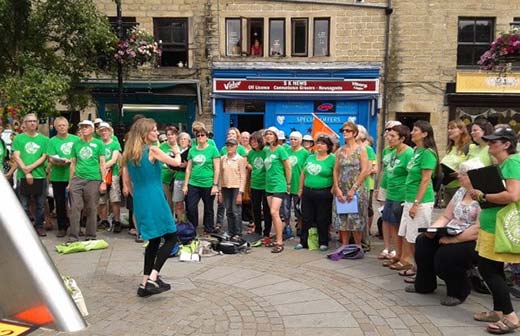 The programme includes old and contemporary songs from Britain, Iceland, Palestine and many other parts of the World, with the Choir led by their talented Director, Carol Donaldson.  The concert is open to the public and will be held at the Methodist Chapel on Market Street, opposite the Co-op supermarket in Hebden Bridge.  Tickets will be sold on the door at 7.30pm, with cake and hot drinks available at the interval.
Details of the concert
Venue:  Methodist Chapel opposite the Co-op Supermarket in Hebden Bridge
Date:  Thursday 16th July
Time:  Doors open 7.30pm for concert 8.00-10.00pm (incl. interval with refreshments)
Cost:  £6 standard, £4 concessions, free for children
Committee member, Paul Forrest said: "Calder Valley Voices always welcomes new members, so check us out at the concert and then join up in the new year if you're interested – open to all, no auditions.  The first session of the new term will be at 7.15pm on Thursday 10th September, 2015 at the Methodist Hall (opposite the Co-op Supermarket in Hebden Bridge)".
More information is on the website
or contact the organisers -
07745 470345