Drum Trek
Monday, 13 July 2015
On July 2nd 2015, Hebden Bridge drummer Paul Dear set off from John O'Groats in the far North East of Scotland, on a rhythmical odyssey, taking in 27 UK locations in 26 days and finishing at Lands End in the South West tip of Cornwall.
He is zig-zag across the UK calling  at John O'Groats, Findhorn, The Isle of Skye, Edinburgh, Glasgow, Moffat, Wiston Lodge, Carlisle, Newcastle Upon Tyne, Wakefield, Liverpool, Hebden Bridge, Brighouse, Lancaster, Hull, Manchester, Sheffield, Stainsby Festival, Nottingham, Birmingham, Newtown, Swansea, Pewsey, London, Surrey, Brighton, Penzance, Lands End.
Yesterday, it was the turn of home town Hebden Bridge.
At each location, Paul facilitates a Community Drum Circle event open to the public. Community Drum Circles are an in the moment, hands on, totally accessible musical experience for everyone to participate in.
Professional drummers and total beginners alike can jam together with the help of Paul's inclusive facilitation style.
Paul has spent many years working across the UK to promote Community Drum Circles and has managed a training program for facilitators through UK Playshop. Many of those facilitators will be the community liaisons for Drum Trek. This is a journey to connect up the dots and inspire people to come together through music and rhythm for a good cause.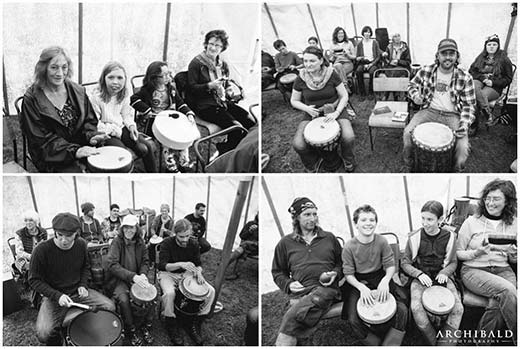 Through donations and sponsorship, Drum Trek will aim to raise £25,000 for the development of two UK Music and Arts charities.
Tinto Music and Arts is a creative wing of Wiston Lodge and aims to provide quality programs for the rural community of South Lanarkshire and the PSED (Personal, Social and Emotional Development) curriculum at Wiston Lodge.
Stainsby Festival is one of the oldest traditional folk festivals in the UK and is a completely volunteer run event. The land upon which the festival has resided best part of 50 years is up for sale and my contribution will go into the pot to help secure this 'Field of Dreams' for the festival in perpetuity.
I have worked alongside both organisations for a good number of years and at a time when funding streams are being cut I decided that I may be able to do something positive by following my passion and doing the thing I love. DrumTrek was born out of that desire.
See also