Kilimanjaro climb raises over £1000 for Calder Valley Search and Rescue Team
Tuesday, 18 August 2015
Earlier this month, (28th July – 3rd August), Drew Whitworth from Hebden Bridge successfully climbed Kilimanjaro – the highest mountain in Africa, to help raise funds for CVSRT. On his return, The Railway pub held a welcome home party and a fundraising day (August 9th) to celebrate Drew's achievements and help raise additional funds.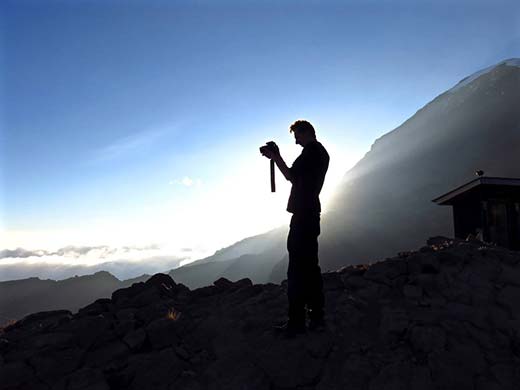 CVSRT would like to take this opportunity to thank Drew, Keith and Shelly Hobbs and all the staff and customers at The Railway for supporting the team and a big thank you to everyone who kindly donated raffle prizes and dropped their spare cash into the collection boxes. The grand total from Drew's Kilimanjaro Challenge and the raffle at the pub raised £1075, which has been donated to the team.

Drew said, "Kilimanjaro was fantastic and one of the best treks I have ever done. It was an incredible experience and I am glad I managed to raise some funds along the way. Many thanks to everyone who sponsored me and to those who came along the pub for the fun day."

Keith Hobbs, The Railway landlord said, "It was a great day and we had raffle prizes donated from nearly every shop, pub, restaurant in Hebden Bridge and surrounding towns. We always have a good turn out and it was great to see such support for a worthy cause."

Simon Thresher, CVSRT Assistant Leader said, "The team is extremely grateful and the money will be wisely used. It's thanks to the generous support of the community that means we can continue to provide the voluntary service that we do. The money raised will go towards a replacement for one of our ageing Land Rover Defenders (Calder Mobile 3). The new vehicle will be specially modified for Mountain Rescue service, and will hopefully be operational by the end of 2015. It will cost in the region of £40,000 to purchase.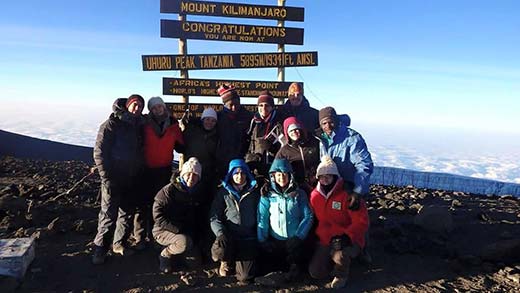 There's still chance to donate to Drew's Kilimanjaro Challenge fundraising page.

Read Drew's Kilimanjaro blog and to see more stunning photos, please visit.
Kilimanjaro challenge will raise funds for Search and Rescue Team
Tuesday, 21 July 2015
Drew Whitworth, a senior lecturer at the University of Manchester who lives in Hebden Bridge, is aiming to reach new heights as he embarks on an epic adventure to climb Kilimanjaro - the highest mountain in Africa (19,340ft/5,895m). His journey starts on 28th July and he aims to reach the summit on 2nd August.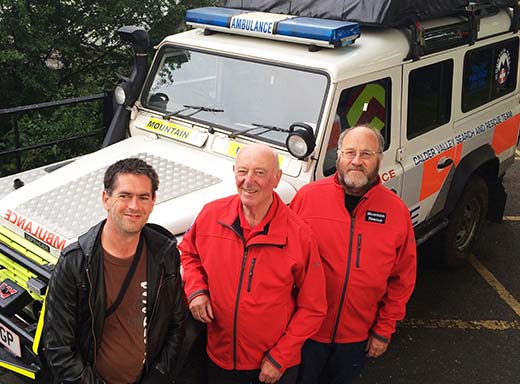 Drew hopes to raise £1500 from the challenge, which he will donate to Calder Valley Search and Rescue Team to go towards replacing one of their ageing vehicles. The new vehicle will cost in the region of £40,000 to purchase and will be specially modified for Mountain Rescue service.

For many years, Drew has enjoyed trekking around the local moorland whilst most of his spare time is spent in the Lake District ticking off all 330 'Wainwright' fells and outlying fells, (without the use of a car to get around) - a project which he has nearly completed.

Drew said, "Having spent a considerable amount of time walking in remote places, I'm well aware that being prepared with the right skills and suitable equipment is key to remaining safe. That said, if I needed urgent medical assistance whilst out and about, it's reassuring to know that teams like Calder Valley Search and Rescue are there to help".

In addition to the African mountain challenge, Drew's local pub The Railway, Hebden Bridge, is holding a 'Welcome Home' fundraising day on Sunday 9th August with various fun activities and a raffle to help raise more funds for CVSRT.

Pete Farnell, CVSRT Chairman said, "It was great to meet Drew recently when he visited the Team HQ in Mytholmroyd to tell us all about his Kilimanjaro adventure and which was also a chance for him to learn more about the voluntary service we provide to the community."

"CVSRT exists with thanks to the support and kind donations from the community, local businesses and generous individuals like Drew who take on challenges such as this. The team are extremely grateful and wish him well with the trek and fundraising day at The Railway pub."
To donate to Drew's Kilimanjaro Challenge, please visit this web pag
Previously, on HebWeb
HebWeb News: Search and Rescue Fundraising Calendar (October 2014)