Chris Green completes The Big Ride for Palestinian Children
Tuesday, 11 August 2015
Chris Green had now completed The Big Ride from Edinburgh to London, 435 miles with 120 other riders raising funds for Middle East Children's Alliance's work in Gaza where 400,000 children have been estimated to be suffering stress disorders. 550 children also died just over a year ago in the last Israeli war on Gaza, when 20,000 homes were completely destroyed and another 90,000 were damaged - materials for repair have not been allowed into Gaza.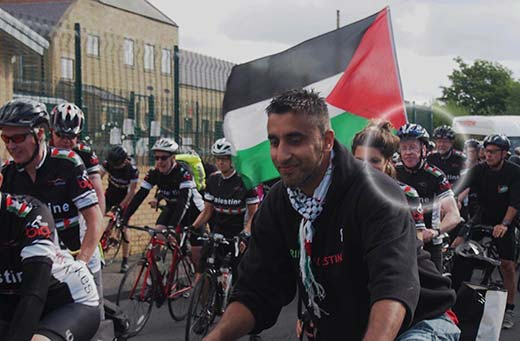 Chris Green, highlighted above, told the HebWeb, "Doing the ride was a great opportunity to raise the issues as people saw us go past and I had the largest flag on the ride as well as loads of leaflets that I learnt to thrust into people's hands without stopping.
"We supported mass rallies in towns along the way in Edinburgh, Bradford, Barnsley, Sheffield, Luton and London.
"I will do a presentation on the highs and lows of the ride sometime in September.
"We have raised over £55,000, but more is required and always welcome. One heavy drinker gave us £15 as we cycled past saying, 'You have it. I'd only piss it away' "
Chris Green to join The Big Ride for Palestinian Children
Wednesday, 22 July 2015
Chris Green of White Ribbon Campaign, is cycling from Edinburgh to London as part of The Big Ride for Palestine, from August 1st to August 9th.
He wants to raise £1 for every mile cycled and is covering all the costs of the trip himself.
The Big Ride is aiming to raise £40,00 altogether.
There will be 500 participants and The Big Ride hopes to raise £40,000 for MECA (Middle East Children's Alliance) - it will be one of the largest mass participation cycling events of its kind in Britain.
Maxine Peake said, "I hope this event will go sone way to forcing our Government to wake up and take responsibility. I wish all riders a fun packed ride and may your bums be not so numb."
Other ride supporters include Mark Thomas, Ricky Tomlinson, and Alan Bate the world recod holder for fastest circumnavigation of the globe by bicycle who said, "It's blatantly obvious to recognise the parallels between apartheid South Africa and the state of Israel."
The Big Ride will follow a stunning route from Edinburgh to London, clocking up an impressive daily mileage. From the Scottish Lowlands and Northumberland they cycle through Yorkshire and then head gradually southwards to London cutting a path through the middle of England. Following national cycle routes, they will avoid the busiest and fastest roads in favour of natural surroundings, satisfyingly challenging distances with stops in some great cities along the capital-to-capital journey.
To donate go to Chris's Justgiving page
See also: