Designer Sale for Calder Valley Youth Theatre
Thursday, 23 July 2015
Designer labels centre stage / Charity Chic fundraiser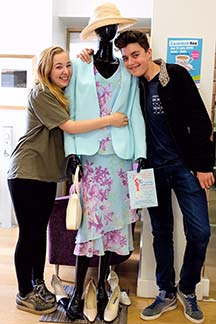 There's a treat in store for the discerning shopper this Saturday 25th July.
Calder Valley Youth Theatre is holding a Nearly New Designer Sale in Hebden Bridge Town Hall from 11am onwards.
Bargain hunters will be able to browse through an array of quality items. Jacques Vert, Alexon and Eastex are just a few of the designer clothes on Sale. Shoe fanatics will be able to step into such names as Pierre Cardin, Roland Cartier and Bally to name but a few.
Vicky from CVYT is keen to encourage as many people as possible. "It's well worth people coming along to see what is on offer. Although we've called our sale, 'Nearly New', some of the handbags, shoes and clothes are in fact 'brand new'. Tags are still on and shoes wrapped in tissue paper and boxed. Seeing is believing. Our Jacques Vert collection is perfect for a timeless look and for soon to be 'mother of the bride', a perfect place to buy that special outfit. For everyday wear we have a large collection of Marks and Spencer clothing."
CVYT has thought of everything. There'll be changing rooms available and even seating to rest whilst contemplating what to buy.
"A luxury experience for exquisite items at a fraction of their recommended retail price" says Vicky Garrod.
The Sale also includes clothing for men and other quality items such as toys, gifts, furnishings and wrapping paper.
All proceeds go towards Hebden Bridge's own Calder Valley Youth Theatre currently raising funds for their next major show, Flashdance, at the Halifax Playhouse in November.
The Nearly New Designer Sale is in The Waterfront Hall at Hebden Bridge Town Hall on Saturday 25th July - 11am to 4pm.
Entry is just 50p and only cash will be accepted on the day.
For more information, please contact Adrian Horton on 07557 954113 or see Calder Valley Youth Theatre website