The Bicycle Den seeks bikes
Friday, 24 July 2015
They have already raised £250 this month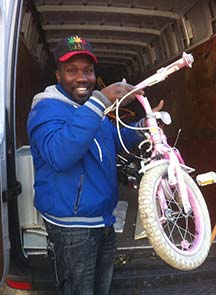 Do you have a bike in the shed? Cellar? Garden? Are you having a clear out? Now is the time to take action as we are having an extra push to raise money for 88 Bikes. Their website says: "The 88bikes Foundation endows bicycles to girls throughout the world, especially the heroic survivors of human trafficking."
If your bike is useable and you don't need it consider taking it to the Bicycle Den. It could change a girl's life.
This month they have already raised £250 which, they have told the HebWeb, will improve the self esteem and life quality for 5 girls in Cambodia.

This is how it works:
Bring the bike to us
If it cannot be rejuvenated, it goes into our cellar to be sent to Tanzania and £10 is donated to 88 Bikes
If it can be rejuvenated, we sell it in the shop affordably, and a minimum of £10 is donated to 88 bikes.
Free coffee or tea voucher for every donation received before 18th August at The Bicycle Den, along the canal in Hebden Bridge.
See also: