Trades Club: Maxine Peake raises £1,200 for Morning Star
Monday, 10 August 2015
A packed benefit concert starring actor Maxine Peake, pictured right standing outside the Trades Club, raised £1,200 for the daily socialist newspaper the Morning Star on Saturday night at the Trades Club in Hebden Bridge.
The concert, which sold out within days of its announcement, was staged by the Calder Valley Morning Star Readers' and Supporters' Group.
Maxine Peake - well-known for her appearances in TV classics such as Dinnerladies, The Village, and Silk, and numerous film and theatre roles - is a Morning Star supporter from across the Pennines in Salford in Greater Manchester.
She read verses from Shelley's epic poem Masque of Anarchy, which Shelley was inspired to write by the Peterloo Massacre, the attack by cavalry on August 16, 1819, on a crowd of 60,000 workers and families gathered for a picnic and meeting to hear speeches calling for electoral democracy.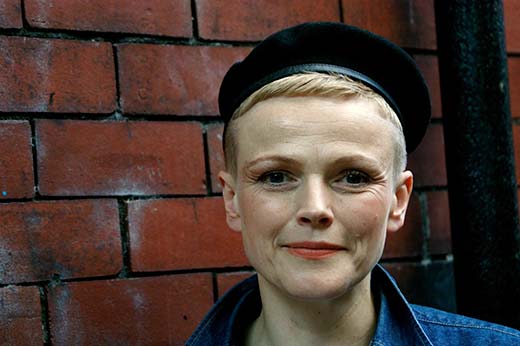 Fifteen people were killed, and between 400 and 700 injured. An annual commemoration of the event has been taking place since 2007, attracting more numbers every year. The next commemoration is on Sunday, August 16, from 1pm to 3pm, at the site of the massacre in Manchester.
Saturday night's concert at the Trades included contributions from local performers George Paterson, Karl Theobold and Jo, and Gareth Scott with Roger Burnett.
Speakers were Hebden Bridge resident Ron Taylor, who spends much time in Palestine supporting the Palestinian people, and Bob Oram, chairman of the management committee of the Peoples Press Printing Society, the readers' co-operative which runs the Morning Star.
The Trades Club hosts events in support of the Morning Star regularly. The next is planned for November.