Vigil in the square: posters and banners banned
Friday, 4 September 2015
Christine Drake has continued her one person vigil in the square for the past 14 months, attracting both criticism and praise. She has written to the HebWeb about a development which may well have consequences for the many groups who wish to use George's Square to air their views. She has been told not to use "posters, banners, flags and information".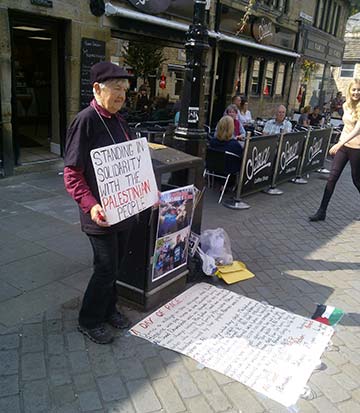 Christine Drake has written to the HebWeb:
"After 14 months in the square, I've seen changing seasons, decorated trees, informative lampposts and buskers adding their own brand of music to the life of the square. Some days there have been tents of every shape and size from numerous organizations. Jugglers and Morris dancers. A Carol Service and a Nameing Ceremony for murdered Palestinian children. All of this and more, a part of the spirit which some of us like to think is Hebden Bridge.
"Then I received a letter.
"The letter was from Mark Thompson Director of Economy & Environment informing me that I could not place any unauthorised items on street furniture. This includes posters, banners, flags and information. Street furniture includes everything even the trees! The only thing excluded is the sky. It goes on to say that any unauthorised items will be routinely removed by officers of Planning and Highways.
"Many thanks to residents and visitors to Hebden who have constantly supported the vigil during the last 14 months and to all those fighting for justice for the Palestinian people. To those who do not share my views but believe in the rights we currently have which include for now, free speech. Thank you.
"In the meantime I intend to continue my vigil and to hold on tightly to the rights and freedom's that still remain. If you believe the loss of these values will make Hebden a poorer place, drop Mr Thompson a line!"
Two days ago, the HebWeb wrote to Mark Thompson requesting a comment. So far, we haven't had a response.
Mark Thompson's email is mark.thompson@calderdale.gov.uk