Refugee support - Hebden Bridge collection point
Monday, 7 September 2015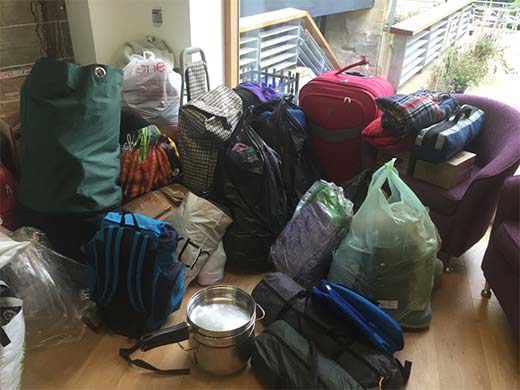 From 9 am this morning, The Hebden Bridge Town Hall collection point opened as a collection point for items needed by refugees in Calais.
They will be receiving donations from 9-5, Monday to Friday for three weeks, staffed by local volunteers.
Here's a list of what is required is needed at the moment:
Trainers, hiking boots, wellies (only sizes UK 7-9)
Tents (covers, tarpaulins)
Jackets (small and medium only)
Travelling bags
Socks
Candles and other lighting
Belts
Tracksuit trousers
Blankets
Jeans (size 28-32)
Smartphones with SIM
Sleeping bag
Soap and shampoo
Toothbrushes
Toothpaste
Plastic bags
Wooly hats
Pants
Pots
Pans
Not needed at the moment:
Women's clothing or shoes
Jumpers
Children's clothing
Nappies, baby wipes, etc
Feminine hygeine products
Suits or formal shoes
The HebWeb will update this page as we receive more information.
If you wish to help or have questions, the group co-ordinating the collections can be contacted by messaging their Facebook page, Calderdale Calais Refugee Aid Group which also posts regular updates. For those who don't have Facebook, you may contact one of the volunteers, Ann Brown.
Update: You can help to raise the cash for the fuel and ferry by following this link to Just Giving
Labour leader calls for action to help Syrian refugees
Friday, 4 September 2015
Calderdale Labour council leader Tim Swift is backing calls for Councils across Britain to each offer to support a number of Syrian refugee families as part of a coordinated response to the crisis.
Cllr Swift said, "I want the Government to recognise that the UK must offer to take our fair share of of refugees from Syria to help tackle the immediate crisis. And they need to know that if they decide to do the right thing, hundreds of communities like ours will stand with them.
"That's why I want Calderdale Council to take a lead in offering to provide support to Syrian refugee families as part of a coordinated national response.
"I've asked Council officers to work up more detailed plans for how we can assist. I will be talking to the leaders of the other two groups to ask them to support this proposal. And I will also be talking to the leaders of other councils in West Yorkshire to see how we could enhance our efforts by working together".