Wainsgate Concert: Emma Sweeney Trio
Wednesday, 9 September 2015
There's more superb acoustic music at Wainsgate Chapel on Saturday 19 September when the Emma Sweeney Trio pay a visit as part of the Chapel's summer concert series.
Born to Irish parents and living in Manchester, fiddle player Emma Sweeney released her debut solo album Pangea to much critical acclaim, in 2013. As a result, Emma was nominated for two Songlines music awards, and more recently received an Emerging Excellence Award from Help Musicians UK which enabled her to take up a place of study at the world famous Subramaniam Academy of Performing Arts in India last year.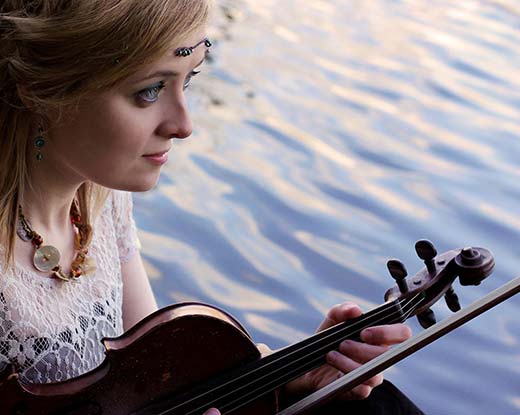 A distinguished and experienced live performer, Emma has played alongside a whole raft of traditional musicians, including Mike McGoldrick, John Doyle and Mick O'Brien. She has also recently supported Paul Weller in a guest appearance with The Rails. Her live performances are a captivating mixture of traditional jigs and reels set alongside her own excellent compositions and accomplished arrangements.
Emma Sweeney is joined by Ben Cashell - a classically-trained cellist from Dublin who has performed with the likes of Once star Glen Hansard, singer-songwriter JP Cooper, jazz guitarist Stuart McCallum and the mighty songstress Rioghnach Connolly. The third member of the Trio is Jack Rutter, a well-respected guitarist and multi-instrumentalist working within the English tradition. He also plays in the Seth Lakeman Band, and is in high demand as a session guitarist for numerous other artists and outfits in the British folk scene and further afield.
"I can't think of a better combination of instruments than fiddle, guitar and cello to show off the near-perfect acoustic in Wainsgate Chapel", commented concert organiser Dave Nelson to the HebWeb. "Over the years we seem to have made a bit of a name for top quality acoustic music, and Emma Sweeney's band promises to be one of the best we've had."
The concert starts at 3pm and tickets, which are available at the door, are £10 and £8 with a special price of £3 for those aged 18 and under.
The remaining concerts in the Wainsgate season include Andrews Sisters-inspired close harmony from The Bobby Pins on Saturday October 3rd, and on Sunday October 25th a spoken word and music double header from former Hebden Bridge performers Jemima Foxtrot who is bringing her highly praised Edinburgh show Melody and Nottingham–based singer/songwriter Louis Scott.
More information about all events and how to get to Wainsgate at www.wainsgate.co.uk.
Previously, on the HebWeb