Parents thrilled that Cragg Vale School is to stay open
Tuesday, 15 September 2015
A short and sharp campaign to save Cragg Vale Junior & Infant School has halted plans by Calderdale Council to launch a consultation in relation to proposals to close down the school and 'relocate' it to a new site at Calder High School.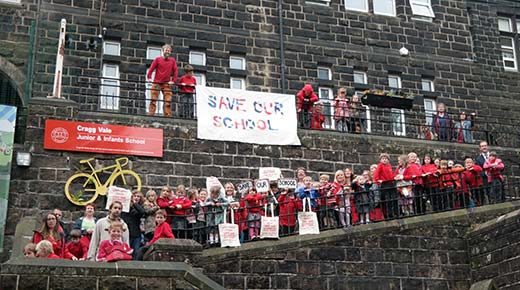 This decision came after an astonishing wave of action by shocked parents and community members who rallied round to unite in less than a week.  Since they were first told of the proposals on their children's first day back at school after the summer, parents - at least 90% of whom were against the plans – have been hard at work drumming up support from the local community and beyond, lobbying local councillors, investigating the relevant regulations, challenging the voracity of the proposals, and collecting hundreds of petition signatures.
As a result, the item was dropped from last night's Council Cabinet meeting agenda and thus put to a stop, thanks to Councillor Simon Young who listened to parents' concerns and talked to other Cabinet members.
"We are very grateful to Councillor Janet Battye and to Councillor Simon Young for their support and help in saving our school from being subject to a consultation that appeared to be based on a flawed and one-sided report.  Our school is a Designated Rural School, and relocating it to the Calder High site would have devastating consequences; not only for the school itself, but for the wider Cragg Vale community," said Diane Wright, parent of two children at Cragg Vale.
Cragg Vale School has a long and established close connection with community groups such as the Cragg Vale Community Association, Cragg 15, the Church and the two local pubs.  Reverend Cathy Reardon of St John the Baptist in the Wilderness Church in Cragg Vale commented; "The redevelopment of Cragg church was designed expressly to make the space more usable by the local community, in particular the children of the Cragg Vale schools."
Philippa Monckton, pictured right, parent and long standing resident of Cragg Vale said; "I've been a member of this community all my life and attended the school myself.  My eldest child now attends and I am thrilled that the process of consultation has been rejected and our rural school will remain open, hopefully for future generations to enjoy."
The Cragg Vale School community is still waiting to find out the exact amount of money to be allocated to the school in its successful Priority School Building Programme bid, awarded by central government earlier this year.
In 2012, OFSTED stated that "Cragg Vale is a good school.  It is happy and harmonious and has many strengths, some of which are outstanding."
---
See also
Flyer given out to councillors at the Council Cabinet meeting
Statement below from Cllr Simon Young:
"I'm delighted to have persuaded my cabinet colleagues to reject these proposals, helped in no small part by the amazing campaign launched by parents and local residents.
"I've been really proud of the response from the local community, who leapt into action to save our much loved rural school.
"It was my job as the local Labour ward councillor to represent the views of my constituents, to listen to them and fight for them at the Council, and that's exactly what I did. I lobbied the cabinet hard to ensure these proposals didn't get past the first hurdle!
"From the outset I had serious concerns about the impact that this proposal would have on the wider Cragg Vale community and having listened carefully, the verdict from the local community has been loud and clear … no!
"Like many schools in our borough, Cragg Vale School lies in the heart of the community and to remove that heart, could have had grave consequences for the community here.
"I'm inviting parents and teachers and members of the local community to join with me in establishing a 'Friends of Cragg Vale School' group, so that we can continue to work together to address the many challenges still facing the school into the future.
"One of our first challenges will be to ensure that the funding Cragg Vale School was promised by Government, is actually delivered, without any conditions attached. Next we must campaign harder for a more comprehensive solution to the crumbling buildings at both Cragg Vale and Calder High. The tokenistic sums of money being talked about at the moment, only amount to putting a sticky plaster over a gaping wound. Our young people and our dedicated teachers deserve more, they deserve better.
"The passionate response from the community gives me real hope, that together we'll be able to tackle these challenges. Working together I know we can make a real difference and maintain the school as the heart of this community for future generations".