Untouchable Things by Tara Guha
Saturday, 19 September 2015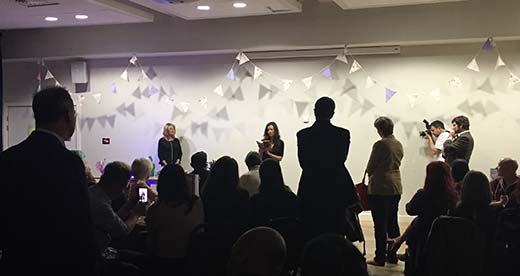 Above: the Waterfront Hall at Hebden Bridge Town Hall was packed with over a hundred people attending the launch of Untouchable Things by Tara Guha, Friday evening, 18 September. In the centre of the photo is the author reading a couple of pages from near the beginning of her novel.
Book Launch: Untouchable Things by Tara Guha
Thursday, 17 September 2015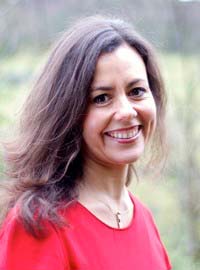 Town Hall: 7pm
Friday, 18 September
Although the novel is largely based in London, its quirky characters and literary references will certainly appeal to many readers in Hebden Bridge.
The author, Tara Guhu, who describes herself as "writer, amateur musician and armchair cricket pundit," lives in Hebden Bridge and is the winner of the 2014 Luke Bitmead Bursary.
Untouchable Things is her debut novel.
The main character, Seth, is a charismatic Svengali type figure who gradually gathers a group of people around him, people from different walks of life. Red-headed Rebecca works as an actor playing Ophelia and later, Abigail. Other members of the group include a musician, an ex-con, a teacher and a chef. They meet at Seth's flat for Friday Follies, to share their talents, to eat, drink and engage in often cryptic conversation.
The first half of the book draws the reader into the characters. We know from early on that something's gone wrong because much of it is written in response to questions being asked by the police.
Throughout the book, someone is watching…
The book is difficult to categorise - is it a murder mystery, an intriguing psychological thriller, a dark tale of obsession and control or is the author just cleverly playing with her readers?
Within a couple of days of publication (1st September) The Book Case tweeted that the book was flying off the shelves. Publishers Legend Press reported that over 1000 people entered their book giveaway for a copy of the novel.
In an interview with the Yorkshire Post, Tara Guha said, "I hadn't read any books on how to write a novel – I went in completely blind - and I loved it."
And so will many readers.