Protest songs
Friday, 25 September 2015
Local musicians have volunteered for a special We Shall Overcome weekend at Hebden Bridge Trades Club to challenge the austerity agenda.
They will be playing on Saturday 3 October and Sunday 4 October as part of a national series of events designed to raise awareness of the human cost of austerity and cuts to community services.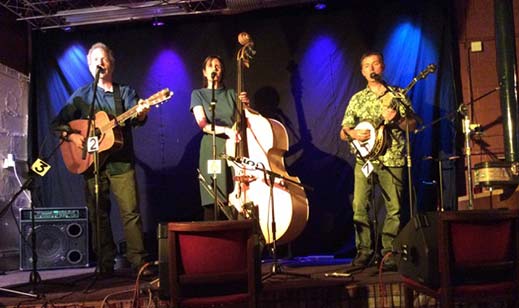 Local promoter Dave Boardman will compere the Saturday acts featuring sets from community choir Calder Voices, Will Kaufman playing the songs of Woody Guthrie, singer songwriter Molly Tilston, vocalist Charlie Carr accompanied by Dave Nelson on piano with the Des Horsfield Duo rounding things off celebrating the songs of Faces Legend Ronnie Lane.
"All the acts wanted to show the artistic community is standing shoulder to shoulder with those losing out and they all donating their services for free," says Trades Club promoter Mal Campbell. "We'll also be hearing from the Todmorden Foodbank about the work they are doing every week to feed local people, and The White Noise Collective DJs will be playing us out."
The next day Hebden based comic Mike Hancock will be welcoming back protesters who will have on a demonstration at the Conservative Party Conference in Manchester.
He'll be joined by folk singer Brian Toberman doing a one off Jeremy Corbyn inspired set, hotly singer Terry Logan, Factoryline singer songwriter Martin Roberts, Catfish Skillet's Pennine Appalachia Bluegrass and the first outing for a new line up of Calder Valley's favourite ska inspired band Pepperjam.
As well as the bands there's chance to hear from No Borders who believe that everyone should have the right to freedom of movement and are calling for an end to deportations and detention. The National Secretary of the Industrial Workers of the World, Dave Pike,will be on hand to introduce what his 'fighting union' stands for and Plan C will be explaining what their organisation of people who are politically active in their workplaces and communities does.
Admission to both nights is by donation and there is a chance to donate non-perishable, in date food for the foodbank.