Wainsgate Concert: Jemima Foxtrot and Louis Scott
Sunday, 11 October 2015
The 2015 Wainsgate summer concert series comes to an exciting conclusion on Sunday October 25th with the return to Hebden Bridge of two former students at Calder High School, currently making big names for themselves elsewhere. Now living in London, performance poet Jemima Foxtrot is bringing her acclaimed debut show straight from the 2015 Edinburgh Fringe Festival and she will be supported by Nottingham-based singer-songwriter Louis Scott, who over the last 8 years has become one of the bright lights of the UK Festival scene.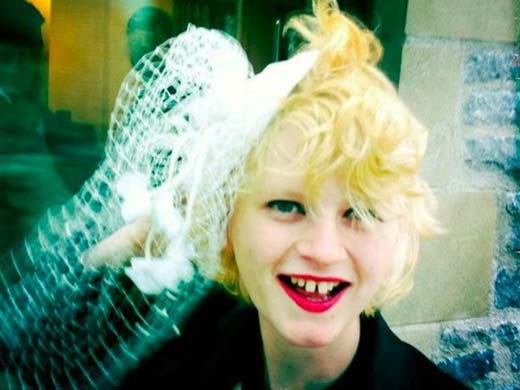 Jemima Foxtrot blends powerful, sonic heavy poetry about modern life with snippets of her favourite artists' songs – as well as her own - in a belting singing voice capable of knocking the listener for six. Shortlisted for the Arts Foundation Spoken Word Fellowship in 2015, Jemima performs extensively across the country.
Her poetry film Mirror was commissioned by BBC Arts as part of their Women who Spit series, and is available on the BBC iplayer.
She has also appeared on Lynn Barber's episode of Arts Night on BBC2. Recently she performed in the Barbican main hall as part of Doug Aitken's Station to Station project, alongside poetry legends including Simon Armitage and Don Paterson for a special concert curated by and featuring Beck.
For her Wainsgate appearance, Jemima will be performing her debut poetry show Melody which won the spoken word award at Buxton Fringe Festival 2015 and was critically acclaimed at its run at the PBH Free Fringe at Edinburgh 2015, receiving several 4 star reviews. Melody fuses spoken word and song to explore how music attaches itself to memories, people and places. Combining spoken word and fragments of song from funk and soul to folk music, Jemima tells a funny, poignant story of childhood, displacement, growing up, love, migration, heartbreak and joy.
Louis Scott is a singer songwriter who weaves together soul, blues, jazz, folk and pop influences into a unique, raw and passionate sound. His incredible voice and intricate guitar playing, combined with an honest songwriting approach and charismatic, hearty performances have made him one of Nottingham's favourites. He has been performing up and down the country for over 8 years and has appeared at many major festivals including Beatherder, Glade and Dot to Dot.
"I've known Jemima since she was born", said concerts organiser Dave Nelson. "She was quite extraordinary then and she's yet more so now! I hope lots of people who know her and Louis will come along and support them at what promises to be a very special concert."
The concert starts at 3pm and tickets, which are available at the door, are £10 and £8 with a special price of £3 for those aged 18 and under, although Jemima advises that her show is for age 14+ with parental guidance. There is more information about Wainsgate Chapel and how to get to there at www.wainsgate.co.uk.
Previously, on the HebWeb