How drawings from Nazi Concentration Camp turned up in Hebden Bridge
Sunday, 11 October 2015
Hebden Bridge writer and consultant, Michael Prior, has given drawings, created in a Nazi Concentration Camp, to the the National Holocaust Centre.
In 1999, his parents, Lena and Arthur Prior moved to Hebden Bridge from London to be closer to their son and their family. They brought with them their closest possession from fifty years of marriage. Lena died in 2000 and Arthur, who many will remember selling the Morning Star in the Square, in 2005.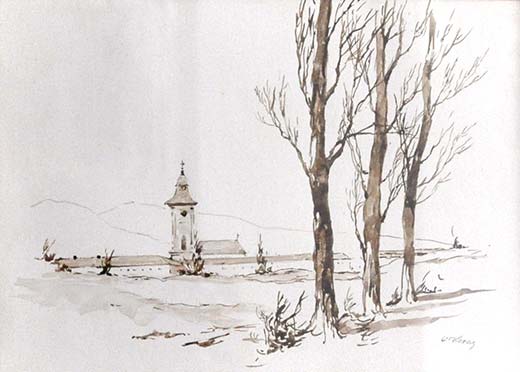 Michael Prior inherited these possessions and used some of them to furnish his home. Recently, he examined five small pictures which had hung on the wall of his family home for as long as he could remember. For the first time, he looked closely at the pictures before putting them on the wall of his Hebden Bridge flat.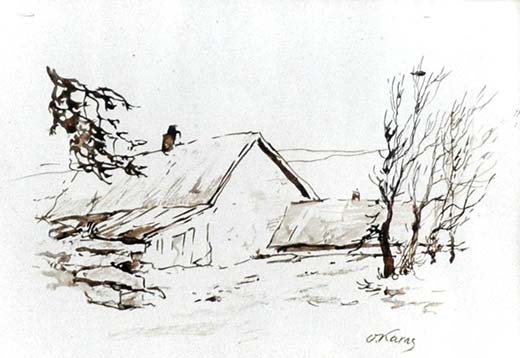 Four of the pictures are monochrome drawings of rural scenes, all signed O. Karas. The fourth is a small water-colour of a town with two towers with mountains in the background. It is also signed O.Karas and has a small title: Terizen, 1944.
Mike investigated and discovered that Terizen or Thereinstadt was a small town about 70 km north of Prague which was used by the Nazis as a ghetto for Czech Jews and also as a place to which prominent Jewish artists were sent. It became a transit camp for all the prisoners were eventually sent to Auschwitz.
The Wikipedia page says: "During World War II Terizen served as a Nazi concentration camp staffed by German Nazi guards. Tens of thousands of people died there, some killed outright and others dying from malnutrition and disease. More than 150,000 other persons (including tens of thousands of children) were held there for months or years, before being sent by rail transports to their deaths at Treblinka and Auschwitz extermination camps in occupied Poland, as well as to smaller camps elsewhere."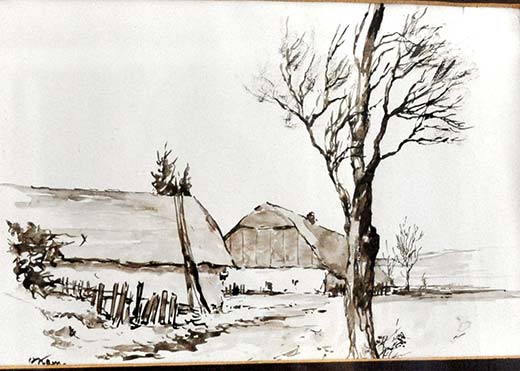 The camp is most well-known for its orchestra but it also held a number of Jewish painters. Its art is best-known for a collection of children's pictures which were concealed in two suitcases and recovered after the war but it also was home to some well-known painters whose work was sometimes smuggled out by local sympathisers.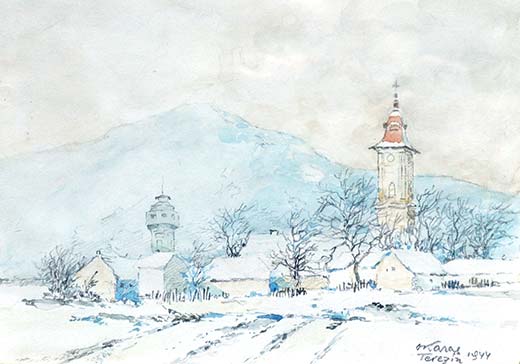 Amongst them was a Czech engraver and book-illustrator, Oscar Karas, sometimes called by his Germanic name of Kaufmann. He was sent to Terizen in 1942 and to Auschwitz in September, 1944 where he was killed.
The pictures must have been done shortly before this. By some channel, these five pictures had been bought by the Priors in London, sometime in the 50s, possibly at a left-wing fundraiser as both were active Communists. Their son has no idea what this channel was.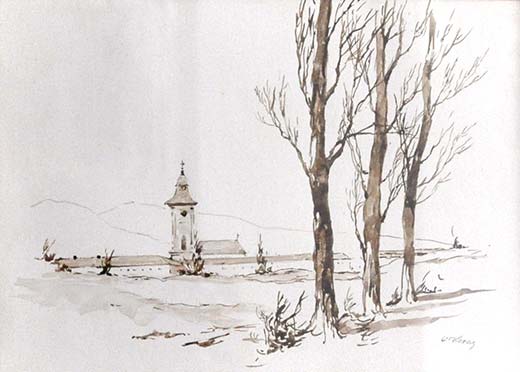 In August, Michael Prior donated 4 of the pictures to the National Holocaust Centre in Laxton, Nottinghamshire where they will be exhibited as part of their efforts to keep the memory of the Holocaust alive and also to raise awareness of other genocides which still threaten.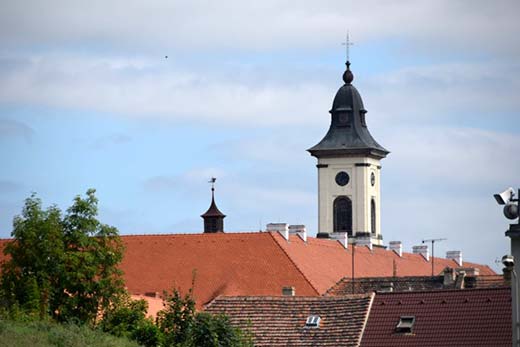 In September, he decided to visit Terizen with the fifth picture and verified that the landmarks shown in the drawings are still there and has sent three of the photos to the HebWeb. Michael Prior searched for the point at which the painting was done and concluded that it to be from what is now the Jewish cemetery.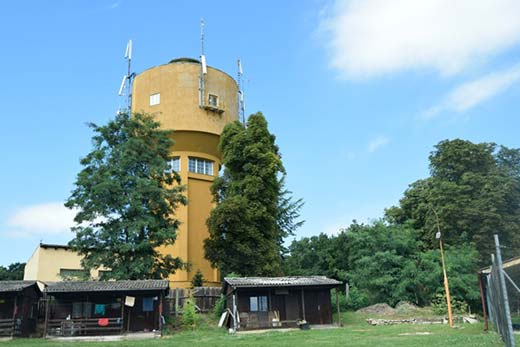 The ghetto is a small town surrounded by the walls of what was a nineteenth century fortress. It is now largely deserted and rather ghostly.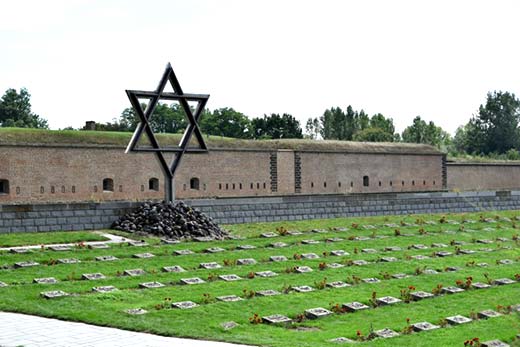 Michael Prior has since donated the fifth picture to the National Holocaust Centre in Laxton, Nottinghamshire