Valley musicians raise a grand for Todmorden Foodbank
Tuesday, 20 October 2015
Calder Valley musicians gave their services for free at two special gigs to raise £1050 for Todmorden Foodbank
The gigs at Todmorden Social Club and Hebden Bridge's Trades Club were part of the nationwide 'We Shall Overcome' campaign raising awareness of the effects of austerity and benefit cuts.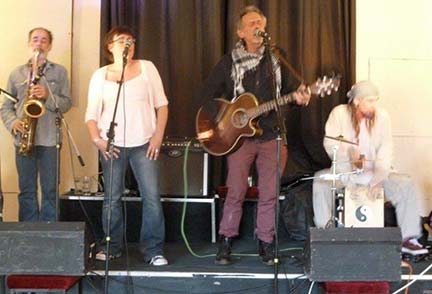 Todmorden Social Club waived their normal fees as Angus Barclay, Deep
North, Almighty Sound, 3 Valleys Gospel Choir, Pickled, Will Kaufman, We
Were Lawless and Featherteeth performed to a sell-out crowd raising £600 and music lovers also donated two large containers of food.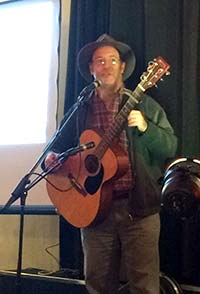 Local comperes Dave Boardman and Mike Hancock ran a busy two day event at the Trades Club featuring sets from Calder Voices, Will Kaufman, Molly Tilston, vocalist Charlie Carr, Des Horsfield Trio, White Noise .Collective, Brian Toberman, Martin Roberts, Catfish Skillet and Pepperjam that pulled in another £450.
Lynne Midwinter was one of the team that organised the Todmorden gig and was overwhelmed by the support from both communities.
"I am so grateful to the musicians who all volunteered to play for free, as well as both clubs who didn't take a penny, and Affordable Sign Co and Bev Shutak printers for their donations of free banners and flyers for the Todmorden gigs," says Lynne.
"I never thought we'd be able to give over £1000 to the Todmorden Food Drop-in based at St Mary's Church, and the performers should be proud their generous support has made sure a significant number of local people will now be able to feed themselves or their families."