Labour choose Josh Fenton-Glynn for Calder Ward
Friday, 30 October 2015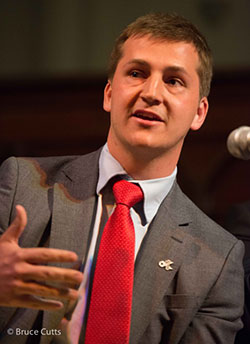 Labour's Calder Valley 2015 parliamentary candidate Josh Fenton-Glynn has been selected to stand for Calder Ward which includes Hebden Bridge and parts of Todmorden.
Josh will be running against the sitting councillor, Janet Battye in May 2016.
During his high profile parliamentary campaign Josh knocked on virtually very door in the ward he grew up in and increased Labour's share of vote.
"It's a tremendous honour to be chosen to fight for the people I grew up with as I went to school at Stubbings, Riverside and Calder High school and protecting this proud community is personal matter for me," says Josh.
"After the election I said that despite the result I wouldn't stop fighting for Calder Valley and I will continue to do so.
"I have been fighting for this area for years from working to save local bus services to fighting to keep our A&E open."
Josh is not only campaigning on his record of defending services, both locally and nationally, but says it is time for a change.
"The Liberals hold the balance of power in Calderdale and on two separate occasions my opponent has chosen to put in the Conservatives who have cut services in Calderdale and brought down a Labour administration. I don't believe she can seriously claim to have been speaking for the people of Calder Ward when she did that.
"My team will run a campaign that listens to people and that's how I will work as a councillor. For me it is important that we are talking to voters and listening to them. I look forward to getting out there again to take our positive message of change to people in Calder Ward and see what they have to say."