Hundreds sign petition to Stop A&E closure
Friday, 6 November 2015
Press release from Calderdale 38 Degrees NHS campaign
A Save our A&E petition gained over four hundred signatures in a couple of hours last Saturday, October 31st, in Halifax.
The petition organisers, Calderdale 38 Degrees NHS campaign group, have now put it online so more people can sign it - here.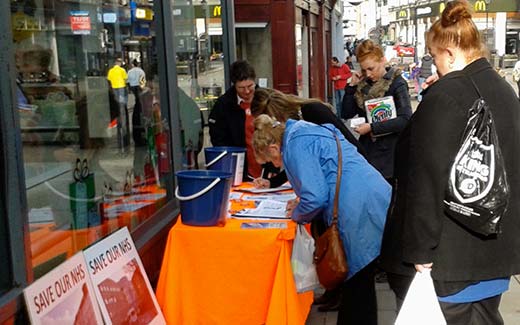 Threat to our hospital hasn't gone away - it's got worse
Rosemary Hedges, staffing the Halifax street stall, said "People were crossing the road to come and sign the petition. When people realised the threat is still hanging over us - that we could lose our A&E along with the complex maternity service and the acute children's service that depend on it - they were very keen to add their names."
The twice-delayed Public Consultation on the proposed hospital cuts and changes is now due to happen in the New Year 2016.
No public opposition?
Incredibly, Calderdale Clinical Commissioning Group are claiming that there has been no public opposition to their proposed hospital cuts.
Jane Rendle, Chair of the Calderdale 38 Degrees NHS Campaign, said "People were telling us they thought the threat had gone away, after the Clinical Commissioning Group postponed the public consultation about fifteen months ago. But it hasn't! It's got worse. Now we don't even know if there'll be a full A&E in either hospital - and none of the NHS bosses will say."
No full A&E in either Halifax or Huddersfield?
Commissioners' updates show there may be no full A&E in either Halifax or Huddersfield.
Calderdale Clinical Commissioning Group's recent update on the proposed hospital cuts says the "reconfigured" hospital services will now include either a Specialist Emergency Centre or an Emergency Centre at one of the hospitals.
A Specialist Emergency Centre is a full, blue light A&E, like we currently have in both Halifax and Huddersfield.
An Emergency Centre is a downgraded A&E, like Dewsbury Hospital ended up with after the hospital cuts and changes in North Kirklees and Wakefield. It does not have the full range of acute and emergency services and so is more like a triage centre where patients are stabilised and then sent to a hospital with full acute and emergency services, like Pinderfields in Wakefield.
Temporary closure?
Meanwhile, the Hospitals Trust says that emergency, temporary closure of Halifax A&E due to lack of safe staffing levels is "increasingly likely" - story here
Rosemary Hedges said, "We're disgusted that the government is deliberately defunding and running down the NHS, to make it easier to privatise it."
Worse than in 2014
Things are worse for the hospital than they were in 2014, when the proposal to close Halifax A&E first became public knowledge. The hospital Trust, CHFT, is now at the centre of a "perfect storm", according to Monitor, which is the quango that has put our hospitals Trust into special measures after it ran into a £20m deficit last year.
The deficit is the result of the government's impossible demands for "efficiency" cuts, which the Trust could not make without endangering patient safety, so it didn't make them.
Consultancy company
The hospital's future now depends on £1m worth of recommendations from management consultancy company
Monitor has made the Trust spend £1m (despite its £20m deficit) to pay a global management consultancy company, Ernst and Young (EY) to come up with a plan to balance the hospital's books. EY are due to produce a 5 year strategic plan for the hospital by the end of December.